Employment
We are currently recruiting for Curatorial Assistant. This position assists Exhibit and Collections Curator with documentation, care, and display of the City of Golden museum collections including inventory and cataloging of collections in excess of 15,000 items.
Summer seasonal position, 25-40 hours per week on a set schedule Monday through Friday. Work with our campers at our fun, outdoor summer camp. Applicants love to work with kids and encourage a fun environment. We love to hire teachers, museum educators, and students.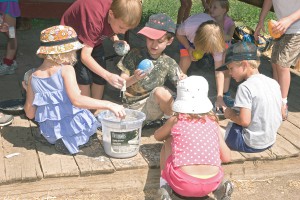 Golden History Museums is part of the City of Golden, which only accepts applications submitted through its website. For prospective employees who do not have a computer at home and are not able to use a friend's or family member's computer, the City recommends they take advantage of local libraries, which offer temporary use of their computers even if you do not have a library card.
The City of Golden is an Equal Employment Opportunity Employer.
There are also many exciting volunteer opportunities at Golden History Museums if you don't find exactly the job you're seeking.