Calendar
Sep
30
Sat
The History of the Ku Klux Klan in Colorado

@ Golden History Museum
Sep 30 @ 11:00 am – 1:00 pm
Join us for a panel discussion regarding the Ku Klux Klan history in Colorado led by expert historian and author of "Hooded Empire: The Ku Klux Klan in Colorado", Robert Alan Goldberg, Charlene Porter, author of "Boldfaced Lies," and Theo Wilson, recent TED Talk presenter regarding his time undercover online with the modern Klan. Jim Kroll from the Denver Public Library will also be showing artifacts from the Laurena Senter's Collection, a female Klan leader during the 1920s.
Program will be held at Golden History Museum beginning at 11am.
This program is free but space is limited so please reserve your tickets.
Nov
4
Sat
Night at the Museums 2017

@ Golden History Center
Nov 4 @ 5:00 pm – 8:00 pm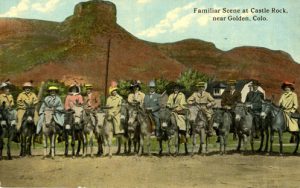 Golden History Museum opens its doors with free admission from 5 to 8 pm for Night at the Museums. See the brand new exhibit Epic Events, an exciting multimedia timeline of the major events and discoveries that shaped Golden. On display will be never-before-seen artifacts such as a 1910 ore car used for local clay mining and a 1970s industry film on the Jolly Rancher plant titled Candy Country USA. The entire family will want to take a selfie in front of a huge photo backdrop depicting tourists with donkeys – once a common sight in Golden.
Free. All ages. There is no registration for this event.