Calendar
Mar
30
Thu
Murder on Seminole Road: Golden's "Bonnie and Clyde"

@ Golden History Center
Mar 30 @ 6:00 pm – 8:00 pm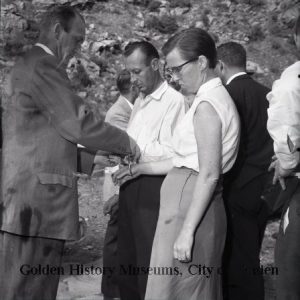 Featured presenter:  Dennis Potter
Back by popular demand, enjoy another forensic foray with Dennis Potter: "Murder on Seminole Road: Golden's "Bonnie & Clyde".
On September 16, 1959, the body of a Denver playboy was found in a shallow grave on the bank of Clear Creek. The culprits? Golden's "Bonnie & Clyde". This pair of evildoers relished their final days of freedom.
Dennis Potter, retired Captain of the Jefferson County Colorado Sheriff's Department, criminal justice professor, and previous presenter of the popular "Operation Hideout: The Investigation into the Kidnapping and Murder of Adolph Coors III" returns for this exciting program. The content contains graphic material and may not be suitable for children.