Teachers
School teachers have many options at Golden History Museums.
Programs are available in Golden at the Clear Creek History Park or at your school in the Denver metro area.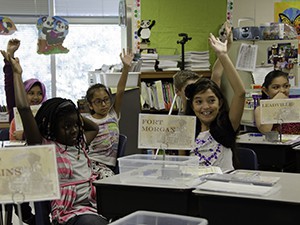 At your school
GHM's Building Colorado program is a fun, fast-paced, 90-minute game-based lesson that combines economics and Colorado history and is led by museum staff. Students will work in teams to weigh the opportunity cost, incentives, and risks to make the same choices that historic Colorado cities faced.
Award winner
Golden History Museums was given the Josephine H. Miles History Award by History Colorado in 2016 for its classroom outreach program. The honor is for individuals or organizations that have made a significant contribution to the advancement of Colorado history through education programs, research, exhibitions, collections management projects, historic preservation, publications, legislation and the like.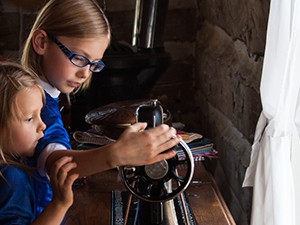 Our new K-5 field trip experience
GHM is excited to announce our new field trip model, titled "Golden City Trading Post". This spring, Clear Creek History Park will come alive with a surplus of activities, crafts, and demonstrations provided by GHM and its local cultural partners. Golden City Trading Post looks forward to providing your K-5 students with unforgettable historical encounters. Registration is now open for May 3rd, 4th, and 5th.
Photos: (left) Jim Rabiolo, (right) Chris Pagley