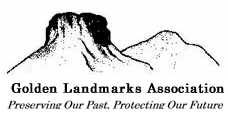 For the past 16 years Golden Landmarks Association (GLA) has honored Golden residents, and more recently Golden organizations, for their contributions to improving life in our community. This year, GLA is honoring Vicki Wagner, Marcie Miller, and Leadership Golden. Over the years, Golden History Museums has worked with all three honorees, and it's my pleasure to extend a hearty congratulations! Golden is is a community filled with amazing people.
GLA hosts a dinner to celebrate these folks on May 5, 2017. For details: goldenlandmarks.com.
­
Vicki Wagner
Vicki has said that "serving on the Golden Urban Renewal Authority (GURA) in its early years, to currently serving on the Golden Visitors Center Board, has been very gratifying". Vicki, a driving force behind the Golden Farmers Market and a long-time member of Golden Good Government League, "encourages all citizens to serve their community in some way."
Marcie Miller
Marcie is a Golden native with a long history of leadership and community service. Marcie is a graduate of Leadership Golden and has supported Golden's non-profit community by serving on the boards of many organizations who promote the arts, the environment and historic preservation. She was twice elected to serve on Golden's City Council and currently holds a position with the Colorado Railroad Museum.
Leadership Golden
For more than 30 years Leadership Golden has served the Golden community as an educational and networking organization, providing a foundation for volunteerism, leadership, community understanding and participation in all types of community service. Approximately 600 participants have graduated from the Leadership Golden program and a high percentage are civic leaders, volunteers and community activists who are a network of citizens committed to Golden's continued success.
Thanks for your service.
Mark Dodge, Curator