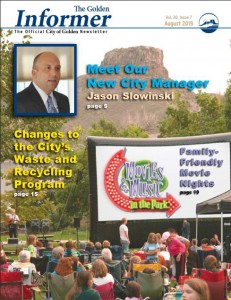 In 2011, Golden History Museums began working with local teachers to develop a program called "Building Colorado" that would bring museum educators into third and fourth grade classrooms. The program makes connections between Colorado history and economics, two subjects that the students are already learning about. Students work in teams to make decisions that have consequences for the future of their city and the rest of the state of Colorado.
Students get to relive history by making important decisions during the Gold Rush, building of the transcontinental railroad, and the Silver bonanza and subsequent bust. By navigating their way west, voting for Colorado statehood, and losing their money in silver stocks students will have the opportunity to learn about the state's past and make decisions that will affect its future. The game teaches economic concepts such as opportunity cost, incentives, and the purchasing of stock. These choices have real risks, leading students to experience loss and gain and the need to budget their city's finances in order to avoid becoming a ghost town.
In the game-based lesson, students can play as one of five towns: Golden, Denver, Colorado City, Leadville, or Pueblo. This year we are making some changes to incorporate even more choices and exciting stories from Colorado history. We will be adding five more towns for students to learn about including Fort Collins, Buena Vista, Fort Morgan, Silverton, and Steamboat. With these additional cities, students will learn even more mining, agricultural, and industrial history of Colorado and will navigate through the choices that homesteaders and pioneers faced.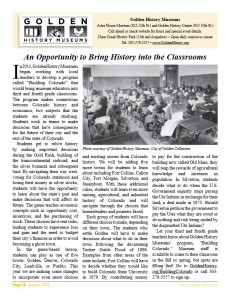 The students who settle Fort Collins will have to decide whether they would like to build Colorado State University or the Agricultural College of Colorado in 1879. Students who decide to build the school will have to contribute money to pay for the construction of the building now called Old Main, but they will reap the rewards of agricultural knowledge and increases in population. In Silverton, students decide what to do when the U.S. Government unjustly stops paying the Ute Indians in exchange for their land, a deal made in the Brunot Treaty of 1873. Should Silverton petition the government to pay the Utes what they are owed or do nothing and risk being raided by the disgruntled Ute Indians?
Let your third and fourth grade teachers know about Golden History Museums' program, "Building Colorado." Museum staff are available to come to their classroom in the fall or spring, but spots are filling fast! Go to GoldenHistory.org/BuildingColorado or call 303-278-3557 to sign up.