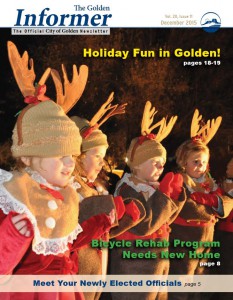 The following article appeared in the December issue of The Golden Informer.
Another great year is coming to a close for the Golden History Museums. We've already processed over 80 new donations for the collection. Thank you for your ongoing support and generosity. Here are my top picks for 2015.
Photograph of the North Side Garage
Once located at 815 Washington Avenue. Marvin Swena ran this garage for years. His son, Harold, went on to run a very successful moving company named, Swena Transfer & Express Co.
Toilet from residence at 1210 Illinois
When homeowner Ian Ferguson first called I had to think twice. Upon further consideration I realized it was perfect for the collection. This porcelain god is believed to be the original toilet installed in the house when it was built around 1903 for the George West family. Amazingly, it was in constant use until a 2013 remodel forced its removal. At the time of the donation, the house had its original tub and sink too. All kidding aside, a toilet is a great item for documenting the development of our municipal water system, which was operating by 1880.
Golden Library local history collection
The museum acquired the best items from this priceless collection of books, microfilmed Golden newspapers, and maps. While it's inaccessible now, plans are underway for a new public resource room at the Golden History Center sometime in the future. Dedicated volunteers have already cataloged nearly 200 books. One of my favorites is a 1927-1928 Boy's Industrial Training School yearbook and report. These were printed in the school's own print shop.
Heritage Square Alpine Slide sled
It's a little beat up, but it's the real deal. Our blue plastic sled was used on the half-mile-long track, which closed for good on October 11th after a 37-year run. We also acquired the wooden dedication sign that hung on the lift house.
Ore car used at the Rockwell clay mine
This rocker-style ore car was used for local clay mining. Built in Denver by the C. S. Card Iron Works around 1910, it spent most of its life moving clay in Golden. In recent years, it ended up in the Nederland Mining Museum before its homecoming this summer.
Adolph Coors Co. 40-quart milk can
In Colorado, Prohibition took effect in 1917. The Adolph Coors Company quickly retooled the brewery for malted milk production. Coors contracted with local family dairies for milk. Full cans were returned to the Golden brewery in exchange for empty ones. In addition to cans, dairy farmers often went home with spent grains as feed for their dairy herds.
Overland Hotel register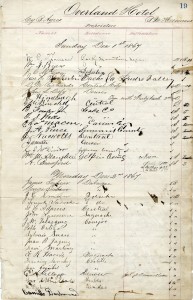 Built in 1859, the Overland once sat at 1117 Washington Avenue where the Buffalo Rose Bar operates today. It first served as a hospital. The Colorado Territorial legislature met here in 1865 when Golden was the territorial capital. It's also where the deadly shoot-out between Ed Franklin and Sheriff Keith went down. The museum acquired 2 pages dated from December 1, 1867-December 5, 1867. The hotel was torn down in about 1910.
Eugene Fodor recording
A musical virtuoso and 1968 Golden High graduate, Eugene was the first non-Russian to win the prestigious Tchaikovsky Violin Competition. The 1974 recording features Eugene playing his prize-winning solos by Tchaikovsky, Ysaye, and Paganini.
World War I trapunto (a decorative quilted design in high relief) souvenir plaque
This personalized war service souvenir of Golden resident Sylvester Spieles depicts a stylized eagle flying over two unfurled American flags. It includes two photographs of Spieles in his dress uniform from the U. S. Army's 27th Infantry. A miner by occupation, he served in Siberia with the American Expeditionary Forces and died at age 31 from tuberculosis contracted there.
Ski Country liquor decanters
Owls, eagles, blackbirds, and rams; these are just a few of the animals represented in a collection of 15 decorative decanters. In the early 1970s Foss Drug introduced a house bourbon called Ski Country. The bourbon came in bottles designed to look like anything but bottles; they were more like porcelain sculptures. The first bottle designed was a skier, but many subsequent designs reflected animal motifs. The decanters became wildly popular among collectors, a popularity that lasted nearly 25 years.
One gallon bottle of candy-apple-red Lavoris mouthwash and gargle
It's still in its original box with shipping label to longtime Golden dentist Doc Anderson. Dr. Anderson's granddaughter held onto it until this year when she offered it to the museum.
Happy Holidays
Mark Dodge, Curator