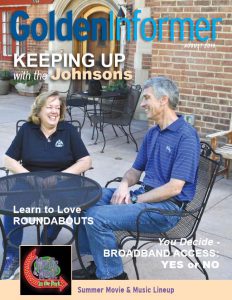 The following article appeared in the August 2016 issue of The Golden Informer.
Clear Creek History Park is home to many of the original buildings from the Pearce Ranch in Crawford Gulch, just off of Golden Gate Canyon, as well as the Guy Hill Schoolhouse from the same area. Thomas Pearce Sr. arrived in Golden around 1878 and worked in the Bob Tail Mine in Blackhawk. On their homestead he and his second wife, Henrietta, and their eight children raised vegetables, cattle, chicken and hogs. The Pearce Ranch buildings were moved to the park in 1994.
Tom Pearce was born in Cornwall, a small peninsula on the southwest side of Britain well known for its copper-mining districts. He was 19 when he came to the Golden area and it's likely that even at that age he would have had plenty of mining experience. (Many children were working in the Cornish mines by the age of 12.) When he arrived in Golden, he found a thriving community of Cornish miners in the area.
Cornwall was recognized at the time for its innovative techniques and skilled labor force in deep-lode mining. But the globalization of mining for copper and tin, as well as crowded living arrangements with poor sanitation and the resulting diseases, encouraged many Cornish miners to emigrate in the second half of the 19th century. Cornish mining communities sprung up in Central and South America, South Africa, Australia, New Zealand, and especially in the United States. Between 1870 and 1914 over 5,000 miners from Cornwall migrated to Gilpin County, just west of Golden. In Central City the Cornish made up over 50% of the population and 70% of the workforce. For these miners, the opportunity to raise their families on their own homesteads represented a big improvement in their living conditions.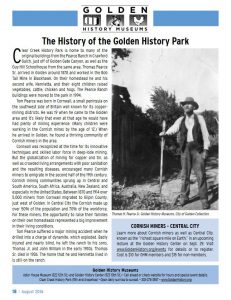 Tom Pearce suffered a major mining accident when he drilled into a charge of dynamite, which exploded. Badly injured and nearly blind, he left the ranch to his sons, Thomas Jr. and John William in the early 1930s. Thomas Sr. died in 1936. The home that he and Henrietta lived in is still on the ranch.
Learn more about Cornish miners as well as Central City, known as the "richest square mile on Earth," in an upcoming lecture at the Golden History Center on September 29. Visit GoldenHistory.org/events for details or to register. Cost is $10 for GHM members and $15 for non-members.