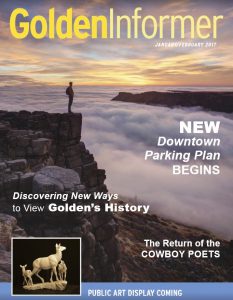 Every single day, Golden History Center visitors poke their heads into the administrative offices to see what the staff are working on. People are naturally curious about the process of collecting, researching, and discovering stories behind the astonishing array of artifacts in the museum's collection of 15,000 items. Who can blame them?
As a result of pondering this behavior and speaking with guests, museum staff are now bringing some behind-the-scenes work to the front of the house. The $325,000 Discovery Awaits Campaign will enable a museum transformation over a several-year period. The building will become a warm, welcoming, and vibrant public space for uncovering and sharing Golden's past.
There's more in store for future visitors
Most people visit a museum only when a new exhibit opens. The new Golden History Center (GHC) will change that. Visitors will come more frequently to make use of hands-on, interactive displays. New collection items—most of which never make their way into traditional exhibits—will be visible as they're being processed by staff. Patrons will get to see and learn something new every day.
New exhibits, new features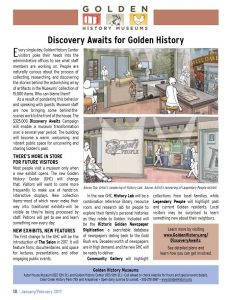 The first change to the GHC will be the introduction of The Salon in 2017. It will feature films, documentaries, and space for lectures, presentations, and other engaging public events.
In the new GHC, History Lab will be a combination reference library, resource room, and research lab for people to explore their family's personal history. Included will be the Historic Golden Newspaper Digitization: a searchable database of newspapers dating back to the Gold Rush era. Decades' worth of newspapers are in high demand, and the new GHC will be ready to deliver.
Community Gallery will highlight collections from local families, while Legendary People will highlight past and current Golden residents. Local visitors may be surprised to learn something new about their neighbors.
Informer
This article originally appeared in the January/February 2017 Golden Informer.