Discovery Awaits and progress abounds on the Golden History Center master plan
Content development and exhibit design are well underway. Working from master plan concepts outlined in 2016, we are designing visitor experiences to inspire a sense of discovery and spark imagination. The idea is to create a public space where everyone feels welcome in galleries that are more family-friendly.
Gift shop closed
The gift shop closed in January, and the vacated space is already in use to stage and process artifacts. A smaller, temporary gift shop "kiosk" is set up in the lobby, emphasizing local history books. Ultimately, the old gift shop space will transform into the Touch Gallery.
With the exception of Epic Events, all other exhibits will close and over 200 artifacts will be inventoried, packed, and transported to off-site storage. Four large artifacts will likely remain at GHC (Pelton square grand, velvet Regal upright piano, City of Golden diorama, and the Foss General Store sign).
Themes for two of our four new galleries are already in development:
The Salon: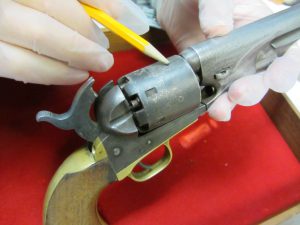 Our multimedia room and dedicated program gallery will support a "Wild West" theme. Golden is one of Colorado's earliest towns after all. A dynamic installation will feature our firearm collection, which includes a Winchester Model 1873 (referred to as the gun that won the west), barbed wire, horseshoes, and western movie posters. A nearly seven-foot-wide television will feature the beloved Capturing the Golden Past, along with other media selections from the collection.
Legendary People:
Home to profiles on the unique people of Golden, women are the first theme for this gallery dedicated to biographical highlights, personal effects and oral histories. Several dozen women are already identified for the first round, including Lorraine Wagenbach, Georgina Brown, and Holly Coors.
Artifact selection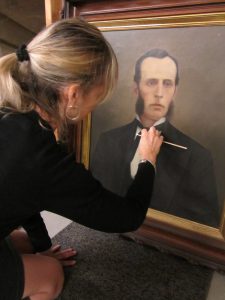 Collection staff use these themes to survey the permanent collection and identify potential artifacts for each new gallery. Once selected, we will review and update artifact records and determine if additional research is required. At this time, the artifact condition is also evaluated and any conservation needs identified.
Conservation treatments for two notable paintings are already in the works to occur later this fall. Both an impressive portrait of William Loveland, c. 1870s, and a delightful folksy painting of Buffalo Bill by Leila Reece, c. 1940s, will undergo minor repair and cleaning before hanging in The Salon.
Stay tuned for updates both in the Informer and on the blog.
Questions or comments about the galleries? Please contact Mark Dodge at mdodge@cityofgolden.net
This article appeared in print form in The Golden Informer.