Last week, Golden History Museums welcomed 35 children for Hands-on History Spring Break edition. During "Pioneer Journey" kids packed a wagon (image below), shot Nerf guns at buffalo (camp staff in costume) and settled at the Astor House. The following day, campers explored the exhibit Made in Golden and created etchings inspired by Epilog laser and built dog toys like KONG and conducted some "market research" with our instructor's pooch. On Thursday, campers made treats inspired by Jolly Rancher. Children made and enjoyed hard candies, cherry cordials, and hand churned ice cream. The week ended with some sugared-up bliss!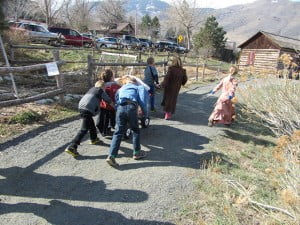 Spring Break camp shows just a small sample of the terrific things we have in store for Summer Hands-on History. Each week presents a new theme and is filled with engaging, fun, hands-on activities that immerse campers in Golden's unique history. Registration is open now and slots are filling fast. You can register by dropping by the History Center or online. A discounted price is offered for GHM members at the Family level and above.
Golden History Museums feels strongly that every child regardless of financial situation should have the opportunity to participate in Hands-on History. Multiple scholarships generously made possible by the Friends of Golden History Museums and the Gregory Family are available. To apply, download an application.
–Nathan Richie, Director
P.S. Watch some of the fun kids had last year in the HOH Silent Stars Camp titled "The Rich and the Stinky."