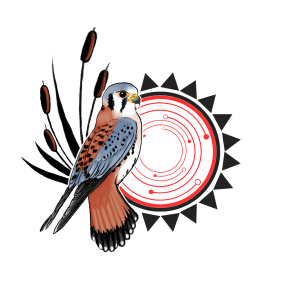 Golden History Museum & Park continues its progress on the American Indian Ethnography Project as well as increasing Indigenous programming at the museum. The following are a few updates and resources:
Ethnography Rough Draft Received
The Museum's consultants, Anthropological Research LLC, have submitted their first draft of the ethnography to museum staff for a first review. The draft focuses on the three main tribes who were in the Golden region at the time of White settlement: Arapaho, Cheyenne, and Ute. The draft document will now be circulated to each of our tribal partners for review and editing. While we cannot disclose the full content of the ethnography yet, much of the information centers around the indigenous landscape, ancestral territories, ethnobotany, treaties, reservations, and removal. A final draft will be complete in June 2022.
Homelands: Artwork by Arapaho and Cheyenne father and daughter artists George Curtis Levi and Halcyon Grace Levi
One February 12, the exhibit Homelands opened at Golden History Museum. "This art exhibit is about the History of The Cheyenne and Arapaho People who call present-day Colorado their Homelands. The Cheyenne and Arapaho People lived in and loved this area and Colorado until they were forcibly removed in the 1860s and this show is a part of Renewal, the Return of Cheyenne & Arapaho People to part of their Homelands to tell their story as Cheyenne and Arapaho People," said artist George Levi. "My work is about my people, it's about who I am, where I come from. It's about a history that still lives on. The types of work that I do are Cheyenne style ledger drawings on historical paper, watercolors, acrylic paintings, parfleche/rawhide work, and Cheyenne beadwork." Homelands is on view through June 4, 2022.
Check out this short interview George Levi gave about his artwork to Rocky Mountain PBS in 2015.
George was the Creative Producer for this fun video of Redbone's 1974 song, "Come and Get Your Love," which also features his ledger artwork.
Indigenous Programming
On February 12, Golden History Museum hosted a sold-out reception and artist talk with George Levi. George is also helping the museum with other projects including reviewing content for our Building Colorado classroom outreach program, storytelling for our forthcoming Jr. Homestead Days field trip experience in May, and planning for a future exhibition about Cheyenne culture later this year. The museum will also host a FREE public closing reception for Homelands on Thursday, June 2, 2022. This will precede the 21st Annual Indian Market and Ceremonial Dance at the Tesoro Cultural Center in Morrison, June 4-5. George will also give a presentation about the Sand Creek Massacre later this spring, details TBA.
On March 9, the museum was honored to host a presentation by CJ Brafford, director of the Ute Indian Museum in Montrose, Colorado. Her lecture "Our first female trailblazers—Colorado's Ute Indian People" was held in conjunction with the 2022 Colorado Women's Day Conference. CJ has served as director of the Ute Indian Museum for 26 years and has received numerous awards for her contributions including the Governor's Award for Excellence in Public Service in 2018.
Articles and Films
As the museum continues the ethnography project it continues to locate terrific resources that are worth sharing.
Colorado Experience: Sand Creek Massacre, 2014
On November 29, 1864, 675 volunteer soldiers led by Col. John Chivington attacked a settlement of Cheyenne and Arapahoe people encamped along Sand Creek in southeastern Colorado. More than 150 Indians were massacred including 150 women, children, and elderly people.
Christmas 1854: The Tragedy that Ended El Pueblo
In the Arkansas Valley of the early 1850s, Ute leaders had a policy of peace, justice, and trade with settlers. But those years after the Mexican-American War brought broken promises from the US government and shifting alliances all around. The resulting violence of Christmas 1854 has long been deemed a massacre.