Applewood Apple Crisp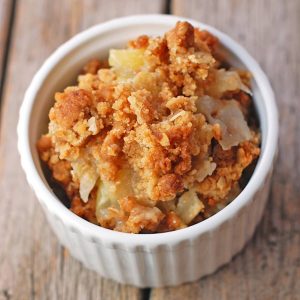 The fertile stretch of land between the Table Mountains east to Denver has been described as Colorado's "apple belt." Try this simple and delicious recipe inspired by the historic orchards of the Applewood neighborhood.
Filling
4 cups apples, peeled, cored, and sliced
1 teaspoon cinnamon
1/4 teaspoon nutmeg
1/4 teaspoon ground clove
1/4 cup water
1 teaspoon sugar
1/2 teaspoon salt
Topping
1 cup flour
1/2 cup oatmeal
1 cup brown sugar
1/2 teaspoon cinnamon
1/2 cup butter
Instructions
Mix apples and other ingredients together. Pour into greased 8 x 8 x 2 inch pan or divide into small ramekins. Mix topping ingredients together and sprinkle over apple mixture. Bake at 350 degrees for 40 minutes.