Calendar
Dec
16
Sat
Winter Survival Class with Aaron "Hutch" Hutchings

@ Golden History Park
Dec 16 @ 9:00 am – 12:00 pm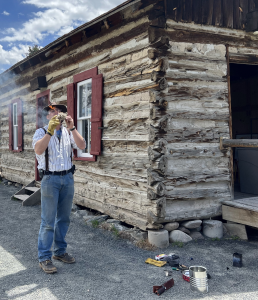 Looking to learns some winter survival skills? Join Hutch, expert survivalist and instructor to learn some basic winter survival skills at the Golden History Park. As the majority of this class will take place outside, make sure to dress accordingly for the weather. Anyone under the age of 16 must be accompanied by an adult. Space is limited, so don't wait to sign up! 
Aaron "Hutch" Hutchings is a Colorado native, veteran, and father of four. He was raised in the Rocky Mountains by a real mountain man and hunting guide he called Grandpa. His love for adventure was first sparked by his grandfather's teaching and stories. This spark was blown into flame in the Boy Scouts and fanned to a full-on bonfire in the Marine Corps. Read more about Hutch in his instructor bio or on his website. You can also find him on Instagram.
Dancing in the Schoolhouse

@ Golden History Park
Dec 16 @ 2:00 pm – 3:30 pm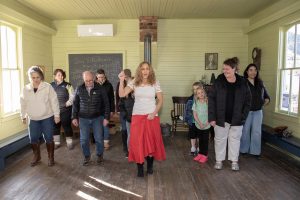 Learn the polka and country dancing in the Guy Hill Schoolhouse in the Golden History Park from dance teacher Mary Eiberger. Just like the pioneers and ranchers of the 1800s, we'll be using the schoolhouse as a dance hall for the holidays! Anyone under the age of 16 must be accompanied by an adult. Space is limited so don't wait to sign up!
Mary has been a high school math and science teacher and tutor for 33 years. She also loves to teach others to country and West Coast Swing dance. She started competing in Polka dancing at the age of five, and she has competed for many years in West Coast Swing dancing.
Photo by Povy Kendal Atchison.
Mar
9
Sat
Artist's Talk and Demonstration with Kathy Mitchell-Garton

@ Golden History Museum
Mar 9 @ 1:00 pm – 2:30 pm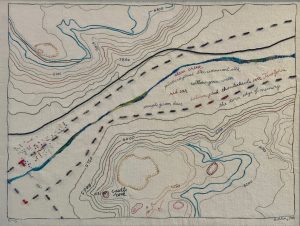 Artist Kathy Mitchell-Garton combines her fondness for Golden's topography and landscape with her love of heirloom textiles and stitching to create artworks that explore the intersection of family, history, and place. Come hear more about her inspiration and gain insight into her artistic process in this artist's talk and demonstration. Kathy will bring pieces from her stash of textiles and maps and demonstrate a few stitches. Museums always say 'don't touch'—this is your chance to get your hands on some beautiful textiles and stitching! Drop in anytime.