Calendar
Mar
29
Wed
Political Cartoons, Masculinity, and Women's Activism in Colorado, 1900-1925

@ Golden History Museum
Mar 29 @ 6:00 pm – 7:30 pm
Can political cartoons fight corruption? Masculinity and women's activism in 20
th

century Colorado.
In-person event on Wednesday, March 29.
Register on eventbrite or purchase tickets in-person at the museum.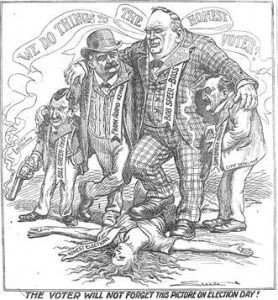 Early 20th century Colorado witnessed some divisive battles over political life and economic conditions. After men voted to enfranchise Colorado women in 1893, the state offered exciting opportunities for women activists to promote reform. Yet party machines limited their influence. In this presentation, Laugen explores the visual representations of gender and politics created by Denver Post cartoonist Wilbur Steele. These editorial cartoons highlight the emotional and gendered style of Progressive reformers and their partisan adversaries. We explore whether political cartoons can fight corruption and promote democratic change in public life.
About Todd Laugen
A faculty member at Metropolitan State University of Denver since 2005, Todd Laugen teaches American History and supports K-12 History Education. His published work includes: The Gospel of Progressivism: Moral Reform and Labor War in Colorado, 1900-1930 and Colorado History Detectives: Teaching Historical Literacy to School-Aged Readers, which is available online.
---
Pricing
Free for museum members, $10 non-members
Membership
Membership pays for itself with just a few programs for your family. Join us.
More Golden history
Check out the Golden History Museum & Park blog for the latest behind the scenes videos and stories, personal memoirs, and history tidbits about Golden.
May
27
Sat
Homestead Open House 2023-1

@ Golden History Park
May 27 @ 10:00 am – 2:00 pm
Homestead Open House
Come to our next Open House! Interested in seeing sparks fly at the blacksmith shop, taking a lesson at schoolhouse, or watching the Pearce/Helps Cabin woodstove in action? Visit the Golden History Park, adjacent to downtown Golden, on select Saturdays from 10 a.m. to 2 p.m., May through September.
Family Friendly Event
During these family-friendly open house events, you will be able to participate in hands-on activities, learn about pioneer history from our interpreters, and see special demonstrations. Homestead Open House is free and drop-in style; there is no registration. Experience history in action!

---
What's in Golden History Park?
The History Park is home to many of the original buildings from the old Pearce Ranch in Golden Gate Canyon. Stroll through the park and imagine yourself growing potatoes or raising chickens as part of a homesteading family. Peek through the windows of real 1800s cabins and see other buildings from the ranch like the barn, chicken coop and two-seat outhouse. You'll also see the 1876 Guy Hill schoolhouse at the park. It was moved to Golden in 1976. Read more here.
Location and Pricing for Open House
Golden History Park
10 a.m. – 2 p.m.; drop-in anytime
Free for all
Membership
GHM&P membership pays for itself with attendance at just a few programs. Memberships start at $40 and all levels include a 10% discount at our gift shop. It features books about Golden as well as crafts from local artisans. The best value starts at the Patron level ($125) and includes admission and benefits at hundreds of North American museums from both of these networks: North American Reciprocal Museums (more than 1,250 participating museums) and Reciprocal Organization of Associated Museums (more than 440 participating museums). Join us today.  
More Golden History
Check out the Golden History Museum & Park blog for the latest behind the scenes videos and stories, personal memoirs, and history tidbits about Golden.