The following article originally appeared in the October 2015 issue of The Golden Informer.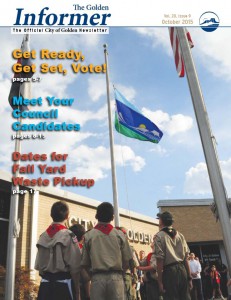 The First Baptist Church quilt (also known to some as the Seth Lake quilt) currently on display in Show & Tell at the Golden History Center was recently donated to the museum. It's exciting news, since the quilt has been on loan for over 40 years! Seth Lake's great great granddaughter (Janet Livesay Robinson) and her family recently finalized the donation, stating, "…the quilt belongs at the museum with the Golden community." Janet Livesay Robinson's parents, Jim and Trudy Livesay (now deceased) first loaned the family's heirloom quilt to Golden Landmarks Association and the fledgling Astor House Museum sometime around 1973.
The quilt was pieced by the Ladies Aid Society of the First Baptist Church of Golden and presented to Seth Lake, the oldest living deacon at the time, in 1887. The Lakes were active church members and prominent Golden residents for many years.
For a quilt that's at least 128 years old, it's in remarkable condition. The sunburst signature quilt is composed of 30 red squares about 14″ to each side. In the center of each square is a white circle surrounded by 17 white diamonds. Key events in church history are written onto the center of each circle while church member names are written on the diamonds. On one square is written, Seth Lake was elected deacon August 18, 1866. While in the 17 white diamonds surrounding that circle are Lake family names. All together, over 500 names appear on the quilt.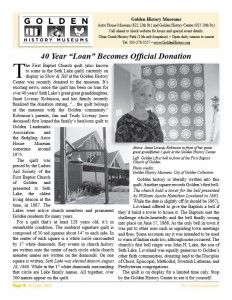 Golden history is literally written into this quilt. Another square records Golden's first bell: The church built a tower for the bell presented by William Austin Hamilton Loveland in 1865. While the date is slightly off (it should be 1867), Loveland offered to give the Baptists a bell if they'd built a tower to house it. The Baptists met the challenge whole-heartedly and the bell finally swung into place on June 17, 1868. As the only bell in town it was put to other uses such as signaling town meetings and fires. Some accounts say it was intended to be used to warn of Indian raids too, although none occurred. The church's first bell ringer was John H. Lake, the son of Seth Lake. Loveland was equally generous to Golden's other faith communities, donating land to the Disciples of Christ, Episcopal, Methodist, Swedish Lutheran, and Presbyterian congregations.
The quilt is on display for a limited time only. Stop by the Golden History Center to see it for yourself.