Colorado has long been regarded as the "Napa Valley of Beer." After all, the state is home to about 230 breweries, the world's largest single-site brewery, Coors Brewery, and each fall hosts the "Super Bowl of Beer," the Great American Beer Festival. Even the Colorado Governor is a former brewer.
Despite all of the definitive reasons why Colorado is an American beer capital, there has never been one spot to truly celebrate and learn about Colorado's rich brewing history. But, that would all change with a proposal set forward by Golden History Museums to create the Colorado Beer Museum at the historic and presently-under-restoration Astor House in downtown Golden.
Astor House was built as a hotel in 1867 when Golden served as Colorado's territorial capital. The building, which also served as a boarding and rooming house, was saved from demolition in the 1970s and became an historic house museum. But for more than a decade, visitation to the old Astor House had declined 57 percent from 5,308 to 2,299—a precipitous fall from an already lackluster attendance. Economic reality shows that it no longer makes sense to continue operating a museum that on average draws only six people a day and is a financial drain on the overall budget of the City's museum division.


Golden History Museums knew that immediate action was necessary to preserve the historic landmark and safeguard its viability. The first step was to save the structural integrity of Astor House, which meant removing toxic asbestos and shoring walls and ceilings. As this process continues, what has emerged is a blank canvas with much potential. Creating a new museum that explores Colorado's rich brewing heritage and booming craft renaissance seemed a natural fit for Golden which already draws more than 300,000 visitors annually to the popular Coors Brewery Tour. And Astor House, with its historic role as a social space and place of hospitality, seemed an ideal setting.
In July, museum staff presented the concept for the Colorado Beer Museum to Golden City Council who directed staff to begin gauging public interest and support for the idea. Findings will be presented to City Council in October to seek approval for a feasibility study.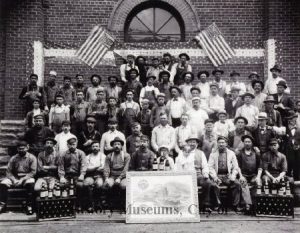 "We are very excited about the possibility of creating the Colorado Beer Museum and breathing new life into this storied building," said Golden History Museums director, Nathan Richie. "But, this idea is still in its early stages. We want to gather as much feedback as we can to determine our plan's viability." There is still much to be explored including capacity, historic sensitivities, parking, and financial sustainability—all factors that staff wish to investigate during a feasibility study. "Pending the outcome of the feasibility study, a commitment to proceed with the project or direction to evaluate other viable alternatives will be sought," explained Richie.
Learn more at ColoradoBeerMuseum.org.