Leadership is challenging under any circumstances, but especially in a crisis.
Leaders on all levels of government are responding to the COVID-19 pandemic and accompanying financial crisis in a range of ways. People want different things from their leaders–solid information, guidance, relief, even comfort. Much of the guidance for the Golden community during this pandemic has come from the state level and the office of Colorado Governor Jared Polis. Like governors before him, and his colleagues in every state, he seeks reliable counsel from trusted advisors and aims to respond as effectively as possible in light of shifting circumstances. Is he handling it correctly? History will be the judge.
The situation brings to mind the challenge of global crisis for another Colorado Governor—one born in Golden, Colorado.
Golden leadership at the state capitol
John Charles Vivian was born and raised in Golden, Colorado. He was also Colorado's governor during the tumultuous Second World War (1943-1947).
Vivian maintained a relative calm across the state for both of his two-year terms. While Vivian's tenure brought about no single great event, he would transform Colorado from a strongly rural, mining-dependent collection of counties into a progressive industrial-scientific state. 
In her well-documented story, "County of Vivian," author Martha N. Martin states:
"Governor Vivian's role guiding Colorado through the tumultuous war years began under Ralph Carr's administration. Vivian was an active Lieutenant Governor and is credited with advising Carr on important matters outside his regular duties overseeing the Senate.
Vivian actively promoted the purchase of war bonds to finance the war effort. His 1942 campaign speeches maintained Vivian's goal to keep Colorado quiet through the war's duration.
During WWII Vivian saw the development of Rocky Mountain Arsenal and other military installations throughout the state. Rosehill German POW camp at the Arsenal and the Amache Japanese Relocation Camp at Granada in southeastern Colorado were other federal installations established during this time."
Scratching the surface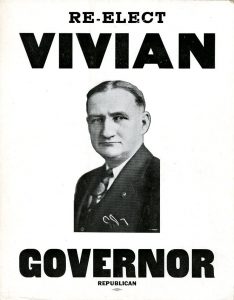 During the early 1900s Jefferson County, Colorado, was known as the "County of Vivians." Sadly, today their reign and fascinating family history is mostly forgotten. And I didn't even mention Governor Vivian's father, John F. Vivian. Believe it or not, he was equally, if not more influential.
Golden History Museum & Park stewards a small, special collection of Vivian-related artifacts. Comprising about 100 items, the collection includes items like John Charles Vivian's personal shaving mug, a college diary from his junior year at CU, and a Governor of Colorado automobile license plate. Unfortunately, records are currently in a sorry state, but a plan exists to remedy this with the on-going work of the Legacy Collection Inventory Project.
Happily, I drew on biographical sketches from great online resources at the Colorado State Archives and a well-researched article from the 2001 Historically Jeffco we have in the collection. 
–Mark Dodge, Curator
This article also appeared in the June 2020 issue of the Golden Informer.