Culinary School with the Director
As a follow-up to our debut Facebook Live episode, here are the promised resources. I hope you'll check out all our other resources online. Follow us on Facebook, YouTube, and Instagram for videos and collection highlights.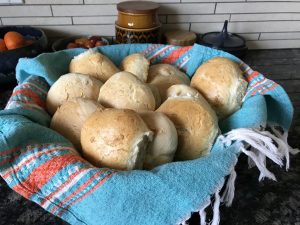 Sourdough Bread Rolls
1 Cup Sourdough Starter

1 ½ Cups warm water

1 TBS yeast (optional—in theory you don't need it if your sourdough starter is good, but it takes longer to rise)

1 TBS Salt

2 TBS Sugar

2 TBS Olive Oil

4-5 Cups Flour (mix wheat, spelt, white, rye, whatever you like)
Mix all of the ingredients together except the flour. Add the flour to the mixture ½ cup at a time. When it is spongy and pulls away from the bowl, knead dough for 7-10 minutes. Let rise for at least an hour in a warm spot.



Punch down dough. Using floured hands, roll small balls of dough (about the size of a lemon) and place on a baking sheet with parchment paper. Allow rolls to rise for at least 30 more minutes. Brush rolls with an egg wash (optional) and bake in 375-degree oven for 20-25 minutes until golden brown. 
---
Jesse's Potato Soup
8-10 Red Potatoes, cubed

2-3 Carrots, peeled and cubed

1 Onion, cubed

1/3 Cup Butter

3-4 Bouillon cubes

1 TBS Parsley

Pepper to taste

6-8 Cups Water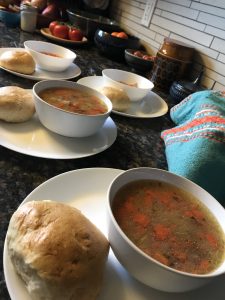 Combine all the ingredients into a Dutch Oven or large pot. Bring to boil on stove; reduce to simmer. Allow the soup to simmer for 30 minutes at least. Could also cook in crock pot all day. When the potatoes soften, slightly crush with a spoon or masher. Don't pulverize (unless you like it that way) but just break up the potatoes into small pieces to release the starches and allow soup to thicken. Serve with warm bread!
Thanks for joining us on FB Live!