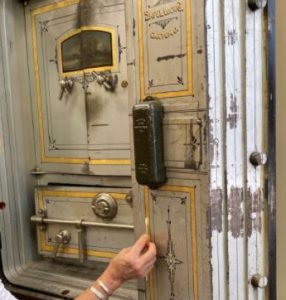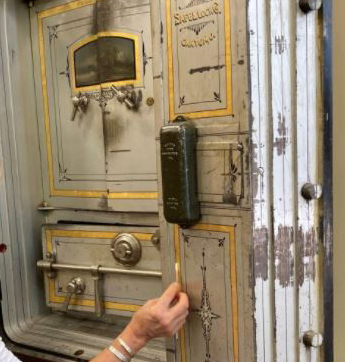 A team from the City of Golden moved a two-ton Diebold anti-dynamite safe from Creekside Jewelers to its new home at the Golden History Museum in spring of 2021.
Now that its new residence is established, some dirt and grime need to be carefully removed from the 120-year-old artifact.
It's a slow, deliberate process and one that requires an artifact-conservation specialist. Enter Cynthia Lawrence of Mountain States Art Conservation.
Cynthia has worked on numerous artifact projects for GHM&P, but for this one, you'll be able to watch the process right here in the museum. 
Pick any or all of the following five days to hang out in the museum and watch the action in detail. The work will be conducted during most of our open hours–that's from about 10 a.m. to 4 p.m.
Wednesday, April 27
Thursday, April 28
Friday, April 29
Tuesday, May 3
Wednesday, May 4
As usual, admission to the museum is free. Give us a call at 303-278-3557 if you have any questions. We hope to see you soon!