Donate Artifacts
Golden-related artifact for donation
Is a Golden-related artifact collecting dust in your attic or garage? We are always looking to collect Golden memorabilia and would love to discuss all possible artifact donations. If you have an object, photograph, or document that you would like to be considered for donation, we want to hear from you.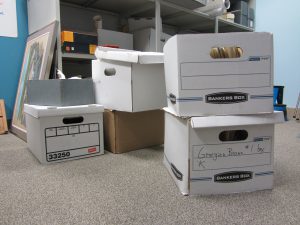 Please call first to discuss the possible donation. We will help you make an appointment to bring the item to the Golden History Museum. Please call Curator Mark Dodge at 303-277-8714 to discuss or schedule a donation. You may also reach Mark by using our contact page.
We consider items that have significance to Golden, new and old. All donations become property of the City of Golden without exception. Donations with conditions will not be accepted.

Frequently asked questions on Golden-related artifacts
I have a Golden-related artifact that might be valuable. Does the Museum offer artifact appraisals?
Unfortunately, the Museum does not appraise artifacts. We suggest finding a reputable appraiser through the American Society of Appraisers.
What does the Museum collect?
Learn a little more about the types of things we collect by viewing the Scope of Collections (PDF). It provides guidelines which help inform the Museum's decision-making process.
Is my photograph already part of the Museum's collection?
We encourage you to browse our Past Perfect online collection and explore the existing photographs using keyword searches. Common ways to find your topic include people, subjects, and search terms under the heading, Search by Term.