Research
No one can know which events are "epic" as they're happening—that knowledge comes with time and perspective. Open a newspaper from the past 150 years, or the web today, and you'll find endless events: birth and death notices, election results, disasters, advertisements to buy and sell everything. While the Epic Events exhibit showcases over three dozen events, it only scratches the surface. Use this Epic Events timeline to peruse hundreds more from the past century and a half.
Historic Golden Newspapers, 1866 – 1974
The Golden branch of the Jefferson County Public Library donated their local history collection to GHM&P in 2015. The gift included 180 rolls of microfilm and almost 150 years of the Transcript. (Several different names have been used over the years, including Colorado Transcript, Golden Transcript, and Golden Daily Transcript.)
Responding to public demand, the museum quickly committed to making the resource publicly available by digitizing the collection and making them fully accessible and free online. Since obtaining the collection, the museum forged a partnership with both the Jefferson County Archives and the Colorado State Library to work with the existing Colorado Historic Newspapers Collection. The Jefferson County Archives has generously pledged to help fund this digitization project and see it through to completion.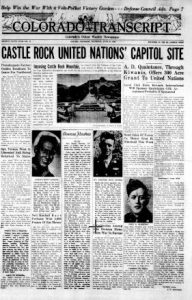 Digital copies of the following Transcript issues are now live: December 1866 through 1974.
Look for yourself. For the first time anyone can easily jump in and explore the Depression and World War II eras in Jefferson County and Golden.
Other Trusted Resources
We offer the following links (in no particular order) to help you find the right local, county and state resources for your own needs. We use these same websites for our own research, and we know there's always something new to discover.
Colorado Historic Newspapers Collection
Foothills Genealogical Society of Colorado
Denver Public Library Western History Resources
Jefferson County Historical Society
Denver Mountain Parks Foundation