After a short two-week hiatus, Hands-on History Summer Camp will resume on July 14th. Already this year the kids have been taking part in all sorts of fun activities from making old-fashioned sodas to writing and staring in their own silent movies. We've discovered that witnessing their children have so much fun at camp can make parents a bit jealous. We hear regularly from envious adults about how much they wish they could take a turn doing all the great activities camp provides. So this summer, we are answering that call with a handful of new opportunities for adults and families!
Beginning in August, Golden History Museums is offering a new Heritage Arts & Crafts program series. Learn (and taste!) historic recipes for spiced pickled cantaloupe and fragrant homemade doughnuts on our woodstove. Make a beautiful knotted rag rug for your home and build a scarecrow for your garden. Enjoy the setting of the Clear Creek History Park and build your skills as a Modern Homesteader. Registration opens July 1st and space is limited.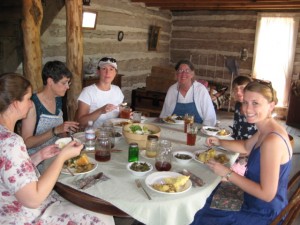 On September 13, the Golden Frontier Olympics will test your athletic prowess in a way that only the 1880s can. Compete using skills that built the west, like hunting and mining (with a twist!). Try to best your opponents in tug of war and put together a crack team to put out a fire in a bucket brigade. Register your team starting July 15 and compete for fantastic prizes. Or, grab a beer and enjoy the show!
–Nathan Richie, Director