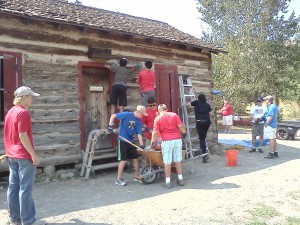 One of the many pleasures that we enjoy at Golden History Museums is the opportunity to share in the generosity and skills of local residents. A great example occurred in August as Eagle Scout candidate Jackson Rudin and scouts and parents of Troop 130 worked with other volunteers to complete some major projects at Clear Creek History Park.
Under Jackson's management, volunteers learned mud-and-daub techniques from historic restoration expert Bill Bailey. Our historic cabins, moved in the 1990s from Golden Gate Canyon, need to have the chinking between logs refreshed every three years or so, and it's a great project for groups of volunteers. In a single day, Jackson and his volunteers refreshed the chinking on Reynolds Cabin, leaving the cabin looking great and protecting the interior from the weather for a few more years.
Simultaneously, some of Jackson's group also rebuilt the corral fence to leave more space for school groups, summer campers and other visitors to gather and watch blacksmithing activities.
Volunteer groups like Troop 130, and our fabulous individual volunteers, make it possible for us to maintain and improve our three venues despite our small staff. Corporate groups, service groups and individuals are encouraged to give us a call when a project is needed! We look forward to hearing about Jackson's promotion to Eagle Scout soon.
–Shelly Bleckley
Visitor Services Coordinator