Colorado School of Mines, The Early Years
This is a hybrid virtual/in-person event.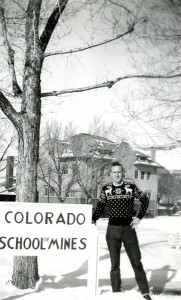 The Colorado School of Mines has been part of the fabric of Golden since its earliest days, becoming a territorial institution in 1874 and a Colorado State institution when Colorado was granted statehood in 1876. Join co-presenters Lee Katherine Goldstein and Lisa Dunn to learn about the early days of this historic institute of higher learning.
Lee Katherine Goldstein is the Chair of the Jefferson County Historical Commission (2019-2021). She is an attorney who lives in Lakewood and enjoys researching and sharing the stories that tell the fascinating history of Jefferson County. 
Lisa Dunn is a STEM Research Librarian and Head of Research Services at Arthur Lakes Library, Colorado School of Mines. She is also the Head of Special Collections & Archives, which includes the Mines History Archive.
Lisa has a master's degree in geology from Washington University, where she did her field work on sedimentary sandstones in the Gulf of Suez region, and an MLS from Indiana University with an emphasis on science and engineering information. She came to Golden and the Colorado School of Mines from Montana Tech in Butte, Montana in 1991. Lisa became interested in the history of the School, began researching its activities and impacts on the region, and established the Mines History Archive in 2015 to help preserve that history.
Her work includes building the university's Digital Archives, supporting education in using primary source materials, creating publications and finding aids, collaborating with researchers, and working with donors to bring content into the Archive to tell the story of the School of Mines.
---
Pricing
Free for members; $10 plus online registration fee for non-members
Membership
Membership pays for itself with just a few programs for your family. Join us.
More Golden history
Check out the Golden History Museum & Park blog for the latest behind the scenes videos and stories, personal memoirs, and history tidbits about Golden.