The Coors Beer Boycott: How a Hometown Industry Met Modern Activism
This is a hybrid virtual/in-person event.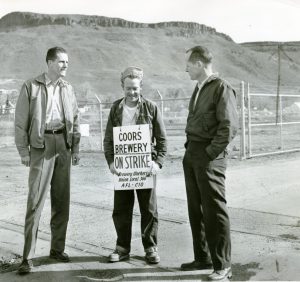 The Coors family ran their business according to Joe Coors' beliefs about what his workforce should be and how they should behave. He was anti-union, pro-white male labor and was unbending in his desire to control his workers. In the 1960s this began to bump up against civil rights movements, causing increasing tension that led to a multi-decade boycott of Coors products. Come hear Dr. Rebecca Hunt tell the story of this challenging era in the history of Coors brewing.
Dr. Rebecca A. Hunt is a retired Associate Professor C/T in history at the University of Colorado Denver. She taught gender, immigration and American Western history as well as museum studies. Rebecca's books include A Century of Healing: Swedish Medical Center (2005) and Wyoming Medical Center: A Centennial History (2011). Natrona County: People, Place and Time (2011) and Casper Chronicles II (2016). Rebecca was the historian for A Woman to Match a Mountain (2008) a documentary on Neal Forsling, Casper, Wyoming homesteader, artist and writer. Her current projects are Urban Pioneers: Continuity and Change in Two Denver Immigrant Neighborhoods and Snow Stories: Skiing in Central Wyoming.
---
Pricing
Free for members; $10 plus online registration fee for non-members
Membership
Membership pays for itself with just a few programs for your family. Join us.
More Golden history
Check out the Golden History Museum & Park blog for the latest behind the scenes videos and stories, personal memoirs, and history tidbits about Golden.