Iron, Dynamite and Intrigue: David Moffat and Colorado Railroads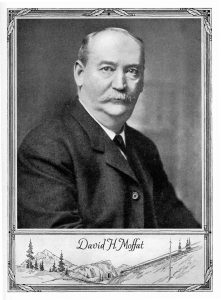 Banker and entrepreneur David Moffat was instrumental in Colorado railroad development and worked to connect the Colorado Territory to the national rail system. His first efforts were to link Denver to Cheyenne, which some credit as reviving the city of Denver. Through his investments, his work even went beyond his living years.
Take a ride through Colorado history with presenter Stan Moore from territorial days to the present where we will look at what happened and the lessons learned (or not). This talk is based on Moore's three historical novels about David Moffat's railroad.
Stan Moore is a husband, father, and grandfather; a third generation Coloradan; a graduate of the University of Colorado; an author and historian; a Vietnam veteran; a retired small business owner; an amateur blacksmith, and an avid mountaineer, backpacker and desert rat. Moore and his wife make their home near Denver with a cat that lets them stay there. More information can be found at stanmoorewriter.com.
---
Pricing
Free for members; $10 plus online registration fee for non-members
Membership
Membership pays for itself with just a few programs for your family. Join us.
Facility Rental
Learn how a Golden Museum Rental offers unique experiences that range from rustic to ritzy.