What's for Dinner in 1920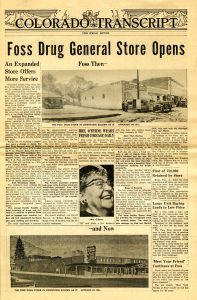 Have you ever wondered what shopping for dinner was like without the shopping cart? Or how your current grocery bill compares to that of the 1920s? In the 1920s, foodways were on the edge of revolutionary change, as industrial and household technologies were about to transform what, and how, America ate. Join historian Dr. Geoff Hunt as we explore grocery shopping and American diets in the Roaring Twenties.
About the presenter: Geoff Hunt
Presenter Geoff Hunt earned his Bachelors of Arts in History at the University of Wyoming, Masters of Arts in Museum Studies at Cooperstown, NY, and Ph.D. in History from the University of Colorado Boulder. Hunt was the Founding Director of Wings Over the Rockies Air and Space Museum, and just retired after 22 years as Professor of History at the Community College of Aurora.
Pricing
Programs are free for members and $10 for non-members (plus eventbrite fee).
Membership
Membership pays for itself with just a few programs for your family. Join us.
More Golden history
Check out the Golden History Museum & Park blog for the latest behind the scenes videos and stories, personal memoirs, and history tidbits about Golden.