This summer, the Golden History Museum & Park is introducing "Evening at the Museum." During June, July, and August, the museum will be open late on the fourth Thursday of each month. Stop by the museum those evenings. As always, museum admission is free. We look forward to welcoming you!
On the evening of June 23, two different free activities will be held simultaneously, each featuring a local artist. See details below:
Opening Reception for Rick Souders: The Art of Edible Imagery
On display through October 2, 2022, Rick Souders: The Art of Edible Imagery will feature spectacular and dynamic photos of food and beverages.
Stop by the Golden History Museum Salon from 4 to 7 p.m. Refreshments will be served and the artist will be available for questions.
Evening of Painting on the Patio with Janet Nunn
Stop by the Golden History Museum patio from 4 to 7 p.m. to learn how to paint a card using watercolors. The event is free.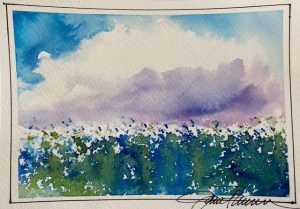 You will learn how to paint a note card with a few fun techniques with Janet Nunn with the Foothills Art Center. One card will be a flower made with plastic wrap or wax paper. The other card will be a landscape created with a plastic card. The last card is created by a trip to the dart board to explode paint from a balloon.
This will be a great way to enjoy an evening of art and history in Golden.
Advance registration is encouraged.
About the artist: Janet Nunn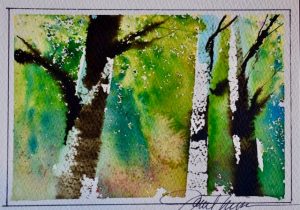 The bright color and blending Janet uses, creates detail and feeling in her paintings.   Capturing the Colorado landscape is one of her favorite compositions.  There is so much to paint in Colorado from changing colors, varied landscape and the great people.  Janet uses a paint made in Colorado, Dr. Ph. Martin's Hydrus Liquid Watercolors.  This paint keeps the brightness and consistency in the paintings. Janet's paintings will be featured in Watercolor Artist in the February 2014 magazine. The books Splash 14 and 16 have paintings by Janet.  And recently in the Spring issue of Rocky Mountain Gardening.
As an instructor, Janet enjoys teaching in a positive way. Guiding students to uncover their own style of painting while they learn many watercolor techniques.  You can follow some of her lessons online at: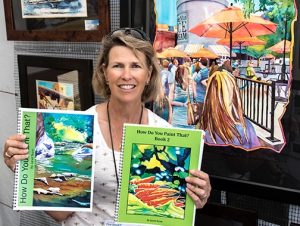 http://www.ustream.tv/channel/dr-ph-martin-s
https://www.youtube.com/watch?v=rqe6tftYEzo&t=293s
Janet has produced three "How Do You Paint That" books of 41 step-by-step lessons in each book, available on her website:
---
Pricing
Free
Membership
Membership pays for itself with just a few programs for your family. Join us. Memberships start at $40 and all levels include a 10% discount at our gift shop which features books about Golden as well as crafts from local artisans. The best value starts at the Patron level ($125) and includes reciprocal admission and benefits at hundreds of North American museums from both of these networks: North American Reciprocal Museums (1,170 participating museums), and Reciprocal Organization of Associated Museums (more than 410).
More Golden history
Check out the Golden History Museum & Park blog for the latest behind-the-scenes videos and stories, personal memoirs, and history tidbits about Golden.