Getting Started – Tracing Your Family Tree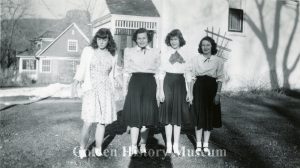 Overwhelmed by all of the tools that are available to do genealogy research? Can't get your brain wrapped around how to get started and wish someone would explain the basics and help? Join genealogy research enthusiast Lora Knowlton as she presents all of the basics to get started. She will review Ancestry, Family Search and other helpful tools. Bring your laptop and be prepared to start your family tree. If you don't have a laptop, no worries! Lora will still help you get started.
---
About the presenter: Lora Knowlton
Lora Knowlton is owner of Current Events LLC, an event management business specializing in outdoor festivals and events. She's also the Programs & Events Manager for the Golden Chamber of Commerce. Lora's mom caught the genealogy bug when Lora was in high school and ever since, Lora has heard all of the many stories about their family members. About 5 years ago, Lora caught the bug – and now spends whatever time in between events looking for long lost ancestors for family and friends. During COVID, she completed the Boston University's Genealogical Principles online course. Lora is a founding member of the Columbine Memorial Foundation, is the chair of the Meetings Industry Council and serves on the board of directors for her radio-controlled airplane club – the Jefco Aeromod'lers RC Club at Chatfield State Park.
---
Pricing
Free for members; $10 plus online registration fee for non-members
Membership
Membership pays for itself with just a few programs for your family. Join us.
More Golden history
Check out the Golden History Museum & Park blog for the latest behind the scenes videos and stories, personal memoirs, and history tidbits about Golden.