Off alone on my tramps: On the Trail of Women Botanists in the U.S. West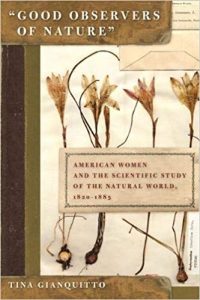 Join presenter Dr. Tina Gianquitto to uncover the stories of women plant collectors in the mountain west as told by the letters they wrote to friends and fellow botanists. Plant collecting attracted a host of rugged western women in the late nineteenth century. Some took to the activity as a way to ease the loneliness of frontier life, while others turned to professional collecting as a way to supplement often meager household incomes. In all cases, plant collecting brought women together and into various networks of people who shared their passions for plants. These women played important roles in identifying and mapping the native plants of the western U.S., but their letters also give us a glimpse into the unique challenges they faced as women in frontier spaces. 
About the presenter: Tina Gianquitto
Tina Gianquitto is an associate professor of literature at the Colorado School of Mines. She has published a book on women, nature and science, 'Good Observers of Nature': American Women and the Scientific Study of the Natural World, 1820-1885 (2007), a co-edited collection America's Darwin: Darwinian Evolution and U.S. Literary Culture (with Lydia Fisher; 2014), as well as articles on Darwinian botany, evolutionary science and women's social reform, and women's participation in botanical correspondence networks. She has been awarded fellowships from The Huntington Library, the National Endowment for the Humanities, the American Council of Learned Societies, and the U.S. Fulbright Scholar Program. Current projects include a digital site Herbaria 3.0: What is your plant story? (www.herbaria3.org) and a book that examines Darwin's plant studies and evolutionary theory in the late 19th century U.S. Tina received her degrees in literature from Columbia University (Ph.D., 2002; M.Phil., 1996; M.A., 1993; B.A., 1991).
---
Pricing
Free for members; $10 plus online registration fee for non-members
Membership
Membership pays for itself with just a few programs for your family. Join us.
Facility Rental
Learn how a Golden Museum Rental offers unique experiences that range from rustic to ritzy.