Seesaw: How November '42 Shaped the Future
This is a hybrid event: virtual + in-person. Register on eventbrite.
By late 1942 the world had been fighting for years, with no end in sight. The five weeks from late October to early December saw campaigns, battles and developments which decisively turned the war to the Allies' favor. Author and returning presenter, Stan Moore takes a fresh look at the personalities and events that led up to this critical period. He then examines five campaigns around the world through the month of November. Moore also discusses how the campaigns and events are inter-related in new and interesting ways. His sources are interviews, oral histories and previously unavailable diaries, photos, and letters.
---
About the presenter: Stan Moore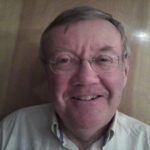 Stan Moore is a husband, father, and grandfather; a third generation Coloradan; a graduate of the University of Colorado; an author and historian; a Vietnam veteran; a retired small business owner; an amateur blacksmith, and an avid mountaineer, backpacker and desert rat. Moore and his wife make their home near Denver with a cat that lets them stay there. More information can be found at stanmoorewriter.com.
---
Pricing
Free for members; $10 plus online registration fee for non-members
Membership
Membership pays for itself with just a few programs for your family. Join us.
More Golden history
Check out the Golden History Museum & Park blog for the latest behind the scenes videos and stories, personal memoirs, and history tidbits about Golden.