When:
September 4, 2019 @ 6:00 pm – 7:30 pm
2019-09-04T18:00:00-06:00
2019-09-04T19:30:00-06:00
Where:
Golden History Museum
923 10th St
Golden, CO 80401
USA

Cost:
$0 members; $10 non-members
Tourism, Make-Believe, and the Built Environment: Colorado's Mid-Century Tourist Parks
Join our panel as we take a visual journey to Colorado's historic theme parks, featuring those built around the mid-century heyday of American tourism and family road trips (envision wood-paneled station wagon and no seatbelts!). Design, kitsch, and make-believe all merge in these creative, nostalgic and visually rich set designs that have become part of our historic Colorado fabric. Presented by Michelle Slaughter, Abigail Christman, Jane Watkins, and Cindy Nasky.
Michelle Slaughter – Historical Archaeologist at Alpine Archaeology Consultants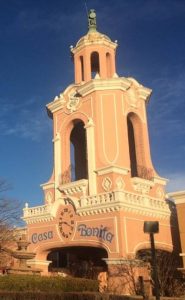 Michelle Slaughter is a historical archaeologist who has devoted her career to the exploration of the recent past in the western United States, researching and working at a variety of historic sites including the Molly Brown House, the Governor's Mansion, the Matchless Mine in Leadville, the Granada Relocation Center (formerly known as Camp Amache), the Sand Creek Massacre National Historic Site, Bent's Old and New Forts, and the ghost town, St. Elmo.  She enjoys public outreach and bringing alive the things she learns during her work.  She is a member of the State Historical Fund Advisory Council and was recently appointed by former Governor Hickenlooper to Colorado's Historic Preservation Review Board.
Abigail Christman – Senior City Planner at City and County of Denver
Abigail Christman is a Senior City Planner in Landmark Preservation at the City and County of Denver. Christman has a varied background in preservation having previously worked for consulting firms, a non-profit, and a university research center.  Her experience includes design review, reconnaissance and intensive-level surveys, National Register nominations, Section 106 consultation, preservation tax credit certification, and public outreach. Christman previously served on Denver's Landmark Preservation Commission. She holds a M.A. in Public History/Historic Preservation from Middle Tennessee State University and a M.A. in Histories and Theories of Architecture from the Architectural Association School of Architecture in London, England.
Jane Watkins – Owner Watkins Stained Glass
Jane Watkins has owned Watkins Stained Glass for the past 35 years with her husband, Phil. She holds a BFA Art History – CU Boulder and currently serves on Colorado Preservation Inc.'s Board. She is a member of Association for Preservation Technology, the Fairmount Heritage Foundation, and the Stained Glass Association of America, and previously served on Historic Denver's Sacred Landmark Committee. Watkins Stained Glass Studio's major recent projects have included: Restoration of the Colorado State Capitol's 27 stained glass windows, Molly Brown House Museum, St. Paul United Methodist Church/Belongs, Trinity United Methodist Church, St. John's Cathedral. Watkins Stained Glass also did thousands of Mid-Century stained glass windows in homes and churches in the Rocky Mountain area. Jane is devoted to Historic Preservation.
Cindy Nasky – Director of Preservation Programs at Colorado Historical Foundation
Cindy Nasky attended Miami University for design/art history and CSU for a Master's degree in Historic Preservation and Public History. She then worked as staff preservationist for a Cincinnati group focusing on restoration and low-income housing.  In 1994, she happily returned to Colorado to work for the fledgling SHF (State Historical Fund). This experience served her well at her work with Colorado Preservation, Inc. (CPI) as a project manager and preservation specialist.  From 2005 to the present, she has worked with the Colorado Historical Foundation (CHF) as Easements Administrator and, more recently, Director of Preservation Programs.
Location and Pricing
6:00 p.m. – 7:30 p.m.
Free for members; $10 plus online registration fee for non-members
Membership
Membership pays for itself with just a few programs for your family. Join us.
Facility Rental
Learn how a Golden Museum Rental offers unique experiences that range from rustic to ritzy.