Colorado Water and the American West
Please join us for a discussion dedicated to Colorado's most precious resource:  water. Matthew S. Makley, Professor of History at MSU Denver, will offer a lecture and conversation about the history of water in Colorado and the American West. This sweeping exploration begins with a look at how First Peoples used water on the Colorado Plateau and concludes with a brief examination of how Denver has developed its water infrastructure. This session will offer participants a basic understanding of Colorado water law, along with a few quick case studies, including the story of the Civil War veteran Rueben Coffin and his battle with the Lefthand Ditch Company for water rights in the late 1800s. If you have ever been curious about water in Colorado, this lecture will help quench your thirst.  
About the presenter: Matthew S. Makley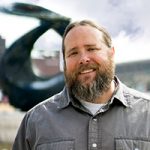 Matthew S. Makley, PhD, is a Professor of History at Metropolitan State University of Denver. He is the author of two books. His most recent, The Small Shall be Strong: A History of Lake Tahoe's Washoe Indians (2018), won an American Library Association's award for "Outstanding Academic Title." Born and raised at Lake Tahoe in the Sierra Nevada Mountains, Makley has lived in Golden since 2007. While his heart is in the canyons and valleys of the Sierra Nevada, he has come to call Colorado and the Rockies home.
---
Pricing
Free for members; $10 plus online registration fee for non-members
Membership
Membership pays for itself with just a few programs for your family. Join us.
More Golden history
Check out the Golden History Museum & Park blog for the latest behind the scenes videos and stories, personal memoirs, and history tidbits about Golden.