The Bad Old Days of Colorado: Untold Stories of the Wild West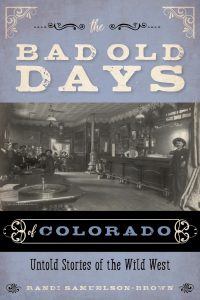 Whether on the right or the wrong side of the law, in the nineteenth century, Colorado was not for the faint of heart. People came west seeking fortune or opportunity, and it is no secret that some of the most famous Wild West characters rolled through the Colorado territory at one point or another. Led by returning presenter and historian, Randi Samuelson-Brown, this talk will center on the establishment of Denver, the discovery of gold, Colorado during the Civil War, the Confederate Gold Field Plot, and other dubious happenings and characters.
---
About the presenter: Randi Samuelson-Brown
Randi Samuelson-Brown is a native of Colorado, originally from Golden. Her ancestors came to the state in the 1880s/1890s, a fact she is proud of. She is the author of The Beaten Territory, an award-nominated historical fiction set in a vice-riddled Denver and Leadville during the 1890s. She lives in Denver, CO.
---
Pricing
Free for members; $10 plus online registration fee for non-members
Membership
Membership pays for itself with just a few programs for your family. Join us.
Facility Rental
Learn how a Golden Museum Rental offers unique experiences that range from rustic to ritzy.