The Magic Mountain Site


This week Golden History Museums was honored to partner with the Denver Museum of Nature and Science to offer tours of the excavation of the Magic Mountain Archaeological Site. Named for the short-lived amusement park built in 1959 a few dozen yards away, Magic Mountain is arguably the most important archaeological site on the Front Range. Anglo settlers first recognized the large quantity of artifacts in the area as early as the 1860s. It was so popular in fact that the local newspaper promoted the area as the perfect location for a picnic and treasure hunting. The first scientific excavations of the site happened in the 1950s. This month's dig at Magic Mountain is the first excavation at the site for more than 20 years.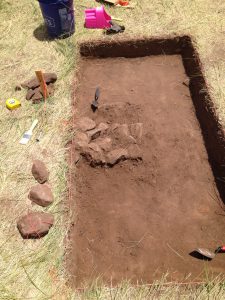 Although today awkwardly wedged between roads, housing developments, and parking lots, the Magic Mountain Site is actually supremely located aside a natural spring, along peaceful Lena Gulch, at the mouth of Apex Canyon—an important ancient and historic pathway to the foothills. It sits in a shallow basin protected from harsh winds, yet perched high on the hill with commanding views of the surrounding terrain.
The people
So, who lived at Magic Mountain and what were they doing there? In short, we don't fully know. That is part of what the DMNS scientists are trying to piece together. However, we do know that early Americans inhabited it for at least 7,000 years. In addition, while there is no confirmed proof yet, some clues indicate that it is possible that people have been living there for perhaps 10,000 years! Each of the excavations have yielded a trove of objects including projectile points (arrow and spearheads), animal bone fragments, charcoal, and potsherds. But what most excites scientists today is the quantity of stone foundations, walls and fire pits in the area which led archaeologists to believe that the site was an important semi-permanent village—perhaps a winter settlement for a largely nomadic people. While many different modern tribes claim lineage to these ancient peoples, similarities in lodging and pottery styles indicate a strong resemblance to the Woodland cultures of the Midwest.
This month's excavation was a two-week field archaeology program that had a dual mission. First, was recovery and analysis of artifacts and soil to better understand the ancient settlers. Second, was to inform the community about this important site, provide a hands-on archaeological experience, and educate visitors about the importance of preserving and protecting cultural resources.
Next steps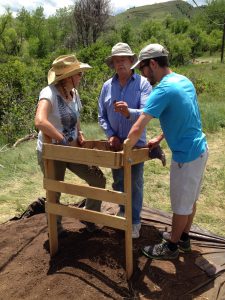 Dr. Michelle Koons, who oversaw the entire project, will return to Golden History Museum on Wednesday, September 6, 2017 to present the findings of the excavation. DMNS is already cooking up plans for a return dig in 2018. Golden History Museum is exploring ways we can deepen the partnership and increase educational offerings for the public next year.
–Nathan Richie, Golden History Museum Director