The fall 2020 Discover magazine features an excerpt from "A Woman's Life in Golden," Betty Herron Gleaton's memoir of growing up with polio (read the complete memoir in our online collection), and an account of traveling to Colorado in 1870 by Mrs. Mary Kalbaugh Whited. In addition, a slew of new programs is available in the magazine, but the complete descriptions are best viewed on the website.
Here's an excerpt from the cover story to get you started: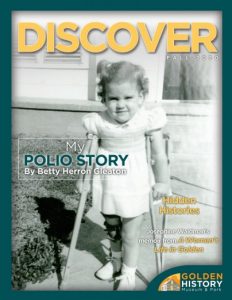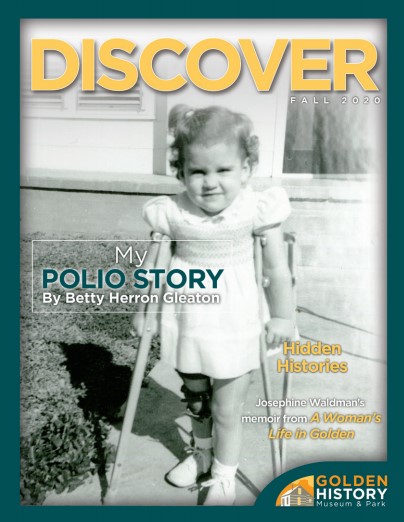 I was recently asked if I had been in an accident by a twenty-something who was referring to my crutches and leg brace. I told him "No," that I'd had polio and he asked "What's that? I've never heard of it." My first instinct was to let him know he hadn't heard of it because he'd probably been vaccinated for it when he was a child but instead I just told him it was the last pandemic- not the Spanish Flu as many people think.
He looked at me blankly and then asked if that was why I had the crutches. I said yes and told him polio caused paralysis. "Huh", I'm sorry," he responded. At that moment I was so glad Mark Dodge at Golden's History Museum contacted me and asked me to write about my life, having survived polio which killed many thousands of people and left so many others with life-long disabilities. Continue reading…
We'd love to hear what you think about the Fall 2020 Discover issue, so please start a conversation here in the comments section. Did you love it? Is something missing? Do you have suggestions for the next issue?
Finally, please fill out this easy form or give us a call at 303-278-3557 if you'd like to receive the next paper version of Discover in your home at no cost.