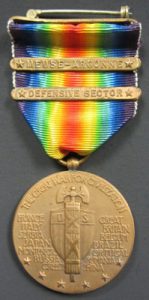 Founded in 1938, the museum turned 80 this year. By far, the major remodel was the biggest news of the year. If you have not visited recently, now's the time.
On the collection front, we continue to improve the quality of and accessibility to the permanent collection, while contributing to a growing body of research. We also collected some amazing new items.
Some of my favorite artifacts for 2018 include:
1. World War I items belonging to Bill Sauter, about 1918.
Items include his garrison cap and Victory Medal for service. Bill fought in the Meuse-Argonne campaign and survived.
2. Rex King of the Wild Horses children's book, 1928


A fictionalized first-person account of the life and times of the "Famous Movie Horse" Rex, who was "discovered" in Golden at the State Industrial School for Boys. In the book Rex describes his early life, his wife, Mrs. Rex, also known as Lady, and his daughter, Rexella.
3. Coors art pottery vase, about 1930
Collectors commonly call this Art Deco beauty the "Vail" vase. These came in six pastel colors. Ours is blue.
4. Milk can ball toss game from Heritage Square Amusement Park, about 1970
The last business operating at Heritage Square closed for good this summer. We didn't have room for the 1977 Ferris wheel, so I settled for a bright red carnival game.
5. Briarwood Inn restaurant memorabilia, about 2017
Items include recent menus, their famous appetizer tray service and china selected by chef and founder, Reed Pasco. After nearly 40 years in business, Golden's only fine dining establishment closed its doors this year. Demolition is scheduled for next year followed by new development.
6. Hometown Monopoly game, about 1980s
Once used at Mitchell Elementary. Our custom Golden version includes businesses like Coors and Meyer Home Center
7. Postcard documenting escape from the State Industrial School for Boys, 1883
Sent by Superintendent W. C. Sampson to the Central City Sheriff, notifying him of William Combs' escape. Sampson provides a vivid description and offers a $50 reward for his return.
8. Various Golden parade photos, about 1920s and 1950s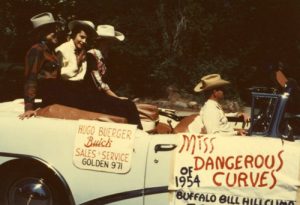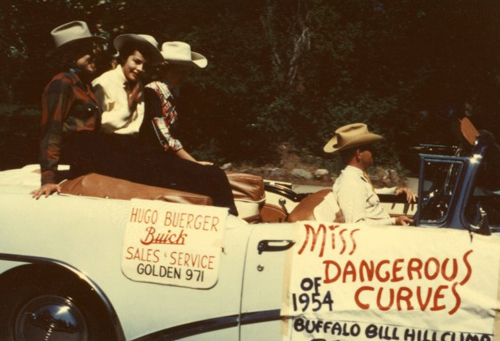 Two separate donations from Stuart Jones and Arlene Munyon document Golden's passion for parades.
Scenes include 1954 Lookout Mountain Hill Climb at Buffalo Bill Days.
9. New Peach Garden Chinese Restaurant sign, about 1983
Business owner Xiufu Shen generously donated the sign and several menus when she closed her restaurant in June. New Peach was Golden's oldest Chinese food stop.
10. City of Golden archives, 1878-1960
The Golden City Clerk transferred 18 boxes of archival materials to the museum for safekeeping. This major collection includes deeds, ledgers, registers, receipts and reports, along with a number of photographs.
Do you have a Golden treasure to donate or share? Let's talk. I'm especially interested in documenting Golden culinary history. In 2019, we'll explore some culinary history online and throughout our five galleries. Research is already underway, but I'd love to hear your thoughts on favorite foods, restaurants, grocery stores, food products (such as Coors Malted milk), recipes, or food personalities with solid Golden roots.
Happy Holidays
Mark Dodge, Curator
303-277-8714