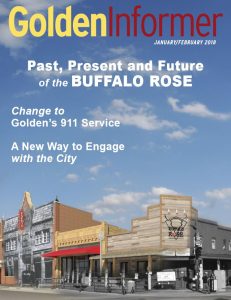 This article originally appeared in the January 2018 Golden Informer.
Golden History Museum, in celebration of its forthcoming 80th anniversary in 2018, is embarking on a full renovation of the museum's public spaces. The initiative called Discovery Awaits will transform the museum into a warm, welcoming, and vibrant public space for uncovering and sharing our past. The renovation includes new programming spaces, a research center, a hands-on gallery for families with young children, and dynamic new exhibits that highlight the City's collection of historic objects. With the vision of "always something new to discover," the renovated Golden History Museum brings the behind-the-scenes practices of object discovery and preservation to the front of the house. Additionally, the public experience will greatly improve with renovated restrooms, lobby, and common spaces throughout the nearly 50-year-old building.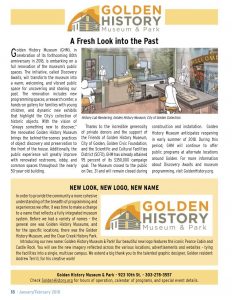 Thanks to the incredible generosity of private donors and the support of the Friends of Golden History Museum, City of Golden, Golden Civic Foundation, and the Scientific and Cultural Facilities District (SCFD), GHM has already attained 95% of its $350,000 campaign goal. Beginning December 31, 2017, the Golden History Museum will close temporarily to the public during construction and installation. Golden History Museum anticipates reopening in early summer of 2018. During this period, GHM will continue to offer public programs at alternate locations around Golden. For more information about Discovery Awaits and museum programming, visit GoldenHistory.org.