Flock
Friends of the Flock
Hi! We are the hens of the Golden History Park. Some people say we are the most famous residents in Golden! Each year more than 100,000 visitors stop by our coop to say hello and give us a treat. Our coop is both beautiful and historic. Did you know it is over 100 years old?
You might notice that we hens look a little different—dare we say, more beautiful—than most chickens. That's because we are heirloom or heritage breeds. Heritage breed animals are descended from some of the earliest types of livestock brought to the New World by European settlers. Long ago, people preferred our breeds because we are hearty, thrive outdoors, and can live to be 5-7 years old!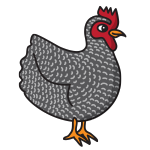 As Americans turned to grocery stores for eggs and meat in the 1900s, farmers began breeding birds that were bigger and matured faster. People rather forgot about us. But, as backyard coops and locally grown food has become more popular, people are rediscovering heritage breeds. 
Come visit us—we love the attention! We're out every day from around sunup to sundown, depending on when our volunteers unlock the door.
Did you know you can help support us in another way? Be a Friend of the Flock! Friends help buy our feed, keep us well, supply our nesting materials and even repair our beautiful coop!
As a Friend of the Flock, you and your family will also receive other fun benefits like:
Special coop tours and private feeding times
Visits with our new spring chicks!
Newsletter with updates on all of our latest Coop News!
Unique opportunities to volunteer and help
Upcoming Events
There are no upcoming events to display at this time.