While the mountains were rich in gold and silver, Golden benefited from abundant coal and clay deposits. The new interactive Touch Gallery at Golden History Museum will celebrate the city's clay mining and industrial heritage in the area of brickmaking.
In 1866, a newspaper correspondent had this to say about Golden:
Golden City enjoys the distinction of being the capital of Colorado Territory…The population is not more than three or four hundred, and the place has a quiet and rather forlorn appearance at present. It possesses, nevertheless, several substantial stores, a school-house, two flour mills and a manufactory of fire-brick. From this time forward, it will rise in importance.
By 1867, Golden City was the manufacturing center of Colorado Territory. Coal and clay mines provided the raw materials for pottery, brick and tile factories.
The new Touch Gallery, scheduled to open in 2018, breaks down into three key areas:
Play and interactives
P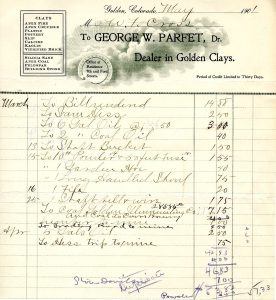 lay area (about 120 sq. ft.) featuring Imagination Playground foam blocks, designed by U. S. architect David Rockwell. The 55-piece set of moveable big blocks will encourage child-directed, unstructured free play and creative thought.  The design team is already hatching ideas to create some in-gallery interactives that fully utilize the blocks and riff on notions about Golden's built environment.
Marvelous artifacts
An early Golden City Pottery & Fire Brick Works crock and several rare bricks from the Cambria Brick & Tile Company will be on view. We're also studying a number of old photographs of the Golden Fire Brick Company, including a couple of wonderful panorama that shows all of the employees. Finally, I recently unpacked a box of papers which belonged to Golden's preeminent clay dealer, George W. Parfet.
Media component
Lakewood Brick & Tile Company is still manufacturing bricks from clay mined in Golden. Today the company is capable of producing over one million bricks a month in a plant that opened around 1920. The process takes about one week from start to finish. We will create a fun, original video that walks visitors through the steps of this early Golden industry.
Give me a call (303-277-8714) if you have a fond memory to share about Golden's brickmaking heritage.
–Mark Dodge, Curator