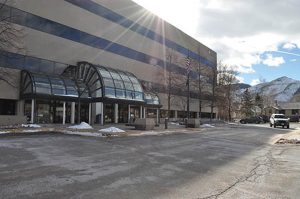 GOLDEN, Colo., May 28, 2019 – This year Golden History Museum & Park celebrates 80 years as Golden's storyteller. As we celebrate the past, we are excited about some new opportunities for the future. In April 2019, the City of Golden announced intentions to purchase the former Coors North Office to convert into a consolidated City Hall and Civic Center. Part of the vision for this massive project is to create a new cultural destination that enriches the Golden community, alleviates current challenges the museum faces, and build a strong, sustainable organization now and for decades to come.
Founded in 1938 with funding from the Works Progress Administration (WPA), today Golden History Museum & Park serves more than 20,000 individuals through fun exhibits, dynamic programming and engaging classroom outreach. It also preserves and shares more than 16,000 historic artifacts including recently digitized photographs and more than a century and a half of the Golden Transcript.
The Golden History Museum & Park witnessed an explosion in growth and development in recent years. Its outreach program Building Colorado serves nearly 10,000 students annually, its acclaimed Hands-on History Summer Camp is filled to capacity, and the Museum recently went through an extensive renovation of its galleries and public spaces. Although the renovation helped tremendously in the short term, it was never meant to be a long term solution.  Located in a cramped 5,000 square foot readapted former public library building, the Golden History Museum is bulging at the seams. To maximize the public gallery space and offices, the museum relocated its collection of more than 16,000 artifacts to an offsite facility in Denver West more than a decade ago. The 2,000 square feet of donated space is filled to capacity with objects. The facility does not meet modern museum standards for security, climate control, fire suppression, accessibility or even basic internet connectivity. "Addressing collections storage needs has been a top concern for many years but has gone unaddressed for lack of space and resources," Nathan Richie continued. "This opportunity has the potential to address multiple needs including collections storage, educational space needs, and expanded exhibits."
A generous gift from a private donor allowed for free admission for all visitors during the Museum's 80th anniversary year. To date, visitation is up 430%, smashing every previous annual attendance record.
"People come to Golden for two things—natural beauty and amazing history.  We love that people are flooding Golden History Museum & Park to learn about and experience all that makes our community so unique," said Nathan Richie, GHM&P director. "At the same time, our small and aging facilities are struggling to keep pace with demand."
Over the next months, Golden History Museum & Park staff and stakeholders, in conjunction with City leadership, will engage in a process to understand the needs of the museum in advance of a move and explore opportunities to enhance services, broaden audiences, collaborate with partners, and discover operational efficiencies.
At the same time, Foothills Art Center is taking exploratory steps to investigate the feasibility of also relocating to the new Golden Civic Center. This presents both organizations an opportunity to imagine how they might work together to provide expanded and enhanced services to the Golden community.  And that's just the beginning; there will be space in the Golden Civic Center for more cultural organizations to move in and benefit from mutual audiences.
"This is an exciting, once-in-a-generation opportunity to envision how the organizations can come together for the benefit of the community," said Richie. "We believe we are greater than the sum of our parts. Our desire is to involve the community in every step of the process so we can achieve a result that is top rate and of greatest service."
Contact us for more information.
###