The following article originally appeared in the March 2015 issue of The Golden Informer.
During the Colorado Gold Rush of 1859 and the turbulent times to follow, many non-mining Colorado towns and cities failed or floundered. However, Golden continued to exist and prosper even after the miners started flocking to the mountains to strike it rich. Historian and presenter Ed Weising will explore how and why Golden continued to thrive after the Gold Rush in a Golden History Museums' presentation titled "Golden: Gem of the Rockies" while also discussing the numerous fascinating historic treasures and stories in the city's history.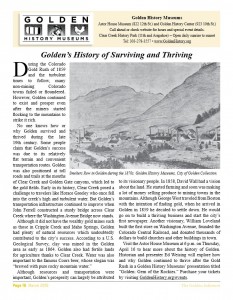 No one knows how or why Golden survived and thrived during the late 19th century. Some people claim that Golden's success was due to its relatively flat terrain and convenient transportation routes. Other towns like Golden Gate City and Mount Vernon were not in "flat" places and therefore did not have the same ease in transportation. Golden was also positioned at toll roads and trails at the mouths of Clear Creek Canyon and Golden Gate Canyon which led to the gold fields. Early in its history, Clear Creek posed a challenge to travelers like Horace Greeley who once fell into the creek's high and turbulent water. But Golden's transportation infrastructure continued to improve when John Ferrell constructed a sturdy bridge across Clear Creek where the Washington Avenue Bridge now stands.
Although it did not have the wealthy gold mines such as those in Cripple Creek and Idaho Springs, Golden had plenty of natural resources which undoubtedly contributed to the city's success. The Chieftain Mine was an active clay mine operated by Robinson Brick Co. According to a U.S. Geological Survey, clay was mined in the Golden area as early as 1864. Agriculture was also important to Golden, with fertile lands due to irrigation from Clear Creek. Water was also important to the famous Coors beer, whose slogan was "brewed with pure rocky mountain water."
Although resources and transportation were important, Golden's prosperity can largely be attributed to its visionary people. In 1858, David Wall had a vision about the land. He started farming and soon was making a lot of money selling produce to mining towns in the mountains. Although George West traveled from Boston with the intention of finding gold, when he arrived in Golden in 1859 he decided to settle down. He would go on to build a thriving business and start the city's first newspaper. Another visionary, William Loveland built the first store on Washington Avenue, founded the Colorado Central Railroad, and donated thousands of dollars to build churches and other buildings in town.
Visit the Astor House Museum at 6 p.m. on April 16th to hear more about the history of Golden, a city that truly is a gem at the foot of the Rockies. Purchase your tickets by visiting GoldenHistory.org/events.