The following article appeared in the September 2016 issue of the Golden Informer.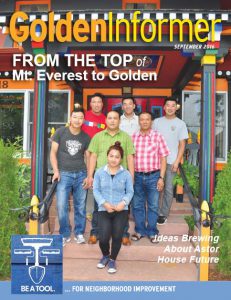 Our lives are filled with events—big and small, happy and sad, some memorable and some best forgotten. Over the course of days and years, the events of a lifetime tell a story—and the same is true for a community.
Epic Events showcases over three dozen events. From the founding of Golden to the discovery of the world's first T-rex tooth, we cover a huge spectrum of material. Visitors will also discover Colorado Prohibition, William "Buffalo Bill" Cody's burial, and a blizzard that dumped five feet of snow on the town, all of which are paired with some amazing artifacts.
Perhaps the largest and showiest artifact is a recently acquired 1910 ore car used for local clay mining. There is also a 1920s Coors milk can used by local families to transport milk for malted milk production, and Norton Brown's 1892 Engineer of Mines degree from the Colorado School of Mines.
Hear Golden author and historian Mary Ramstetter narrate a video introduction titled, Golden Was Born a Handmaiden to the Miners. Her colorful narrative is supported with new footage from four of Golden's historical murals, most notably two by Hal Shelton.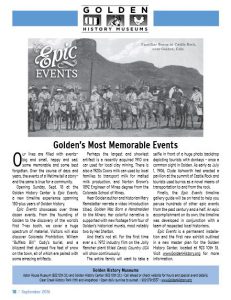 And that's not all. For the first time ever a c. 1972 industry film on the Jolly Rancher plant titled Candy Country USA will show continuously.
The entire family will want to take a selfie in front of a huge photo backdrop depicting tourists with donkeys – once a common sight in Golden. As early as July 1, 1906, Clyde Ashworth had erected a pavilion at the summit of Castle Rock and tourists used burros as a novel means of transportation to and from the rock.
Finally, the Epic Events timeline gallery guide will be on hand to help you peruse hundreds of other epic events from the past century and a half. An epic accomplishment on its own, the timeline was developed in conjunction with a team of respected local historians.
Epic Events is a permanent installation and the first new exhibit outlined in a new master plan for the Golden History Center.