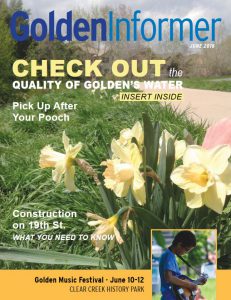 The following article appeared in the June issue of The Golden Informer.
Around the turn of the twentieth century, in the rural American southeast, it was common for families to entertain themselves and their neighbors by playing folksongs and gospel tunes in homegrown bands. Generally, such bands stuck to instruments that were easy to transport, such as guitars, banjos and fiddles, and they borrowed tunes from Irish, English and Scottish folksongs, changing the lyrics to suit the time and place. In the 1920s and '30s local radio stations, desperate for programming, hired local bands to play on weekly shows and sponsored tours for their bands to promote the station.
The Grand Ole Opry began this way in 1925, highlighting country music performers and that division of country called hillbilly music. Bill Monroe and his Blue Grass Boys became featured performers at the Opry in 1939. Monroe's band featured the "high lonesome" tenor voice of Monroe and the driving rhythms of the three-finger picking style of banjo player Earl Scruggs. Before long Scruggs and guitar player Lester Flatt broke off to form their own band, and bands were springing up to emulate the sound that Monroe had mastered. By the late '50s "hillbilly music" was a thing of the past and "bluegrass" had taken its place.
The advent of rock 'n roll ushered in lean times for bluegrass musicians, but the folk music revival of the '60s brought attention to the banjo as played by Pete Seeger and the Kingston Trio. All over the country, acoustic instruments were trendy to learn and schools, acoustic music shops, and regular jam sessions became popular. Some of these "folkies" followed their interests to rediscover bluegrass, and the style was revived. Monroe and the Blue Grass Boys thrived again and new bands joined their ranks. The style became so popular that by the '70s bluegrass festivals began to spring up nationwide.
In 1973, Bill Monroe supported the efforts of the Colorado Bluegrass Music Society to start a festival at the Adams County fairgrounds in Henderson. Monroe was the headliner at the Colorado Bluegrass Festival until 1977. By then, one of the biggest bands in modern bluegrass, Hot Rize, had started among musicians who met at the Denver Folklore Center.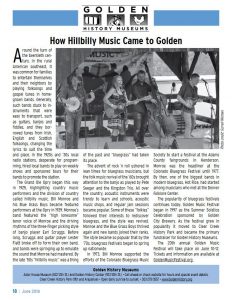 The popularity of bluegrass festivals continues today. Golden Music Festival began in 1997 as the Summer Solstice Celebration sponsored by Golden City Brewery. As the festival grew in popularity it moved to Clear Creek History Park and became the primary fundraiser for Golden History Museums.