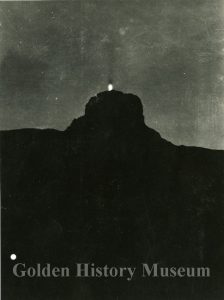 During this time of national and international demonstrations against systemic racism and inequality, many are rightly taking this opportunity to reflect upon their own privileges and biases. Our community, like all others in the United States, has struggled with racial inequality and hatred since its founding. Uncompensated theft of Native American lands in the 1860s, harassment and mistreatment of Chinese business owners at the turn of the 20th century, Klan rallies atop Castle Rock in the 1920s, and threats of violence against a local Islamic center in 2016—Golden has not always been welcoming and tolerant of all people.
As the City's museum, Golden History Museum & Park has an important obligation to collect and share the stories that represent the diversity of our community then and now. We pledge to be a community forum to discuss uncomfortable topics and to shine a light on Golden's own history of racial intolerance. We also acknowledge our own biases and attest that we can, must and will do better as an institution to be inclusive and representative of the many and diverse voices of Golden's citizens in our collections, exhibits, and programs.
Following the protests and violence in Charlottesville, Virginia, in 2017, Golden History Museum & Park partnered with the Blair-Caldwell African American Research Library and Denver Public Library to present a special program that examined the history and legacy of racism in our own community, specifically the presence of KKK activities in the early 20th century. The distinguished panelists are historian Robert Alan Goldberg, author of Hooded Empire: The Ku Klux Klan in Colorado; author and Denver-native, Charlene Porter, who wrote the local bestseller Boldfaced Lies; and poet, activist, and recent TED Talk presenter, Theo Wilson.
This subject has renewed relevance and importance today and we would like to share it again with our community.
Sincerely,

Nathan Richie
Golden History Museum & Park Director