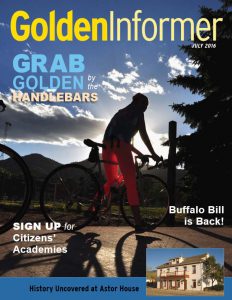 The following article appeared in the July issue of The Golden Informer.
Every year the curatorial staff selects new research areas. Sometimes this means identifying undocumented items already in the collection and deliberately fleshing out their local significance, if any. Sometimes it means researching an unknown or under-appreciated aspect of history. (What was Golden's first pizza joint, for instance?)
At other times we're on a crusade to verify information that already exists and challenge assumptions. (Is Golden really named for Tom Golden?) Sometimes we're driven by external factors to record community change when a beloved Golden business may be closing (Heritage Square) or a landmark is slated for demolition.
The museum is prioritizing the following research topics for 2016.
Colorado Central and Colorado & Southern Railroad memorabilia
It was a big deal when the railroad finally arrived in Golden. The first Colorado Central standard gauge engine named "Golden" arrived in Golden from Denver on September 23, 1870. While we have a number of wonderful photographs of the Golden train yard and various depots, we have little in the way of objects that were used by or on trains operating in Golden like lanterns, tools, or equipment.
Coors Porcelain and Coors Brewery labor disputes
Labor history in Golden still seems touchy. The years 1957 and 1977 saw major strikes at the Golden brewery. In 1957 Coors Brewery workers walked off the job in a strike that lasted 117 days. The company won the strike and decided to develop a corporate security force.
In 1977 Coors Brewery workers went on strike. 1,400 members of Brewery Workers Local 366 would strike over stagnant wages in the face of inflation, and demands for the company to end polygraph (lie-detector) tests. Coors responded by hiring non-union replacement workers and forcing an election to decertify the union. Ultimately, the company won again forcing Local 366 to dissolve.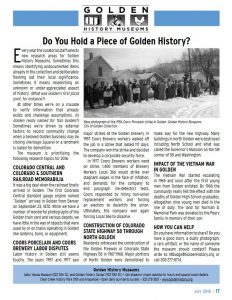 Construction of Colorado State Highway 58 through North Golden
Residents witnessed the construction of the Golden Freeway or Colorado State Highway 58 in 1967-1968. Major portions of North Golden were demolished to make way for the new highway. Many buildings in north Golden were destroyed including North School and what was called the Governor's Mansion on the SW corner of 58 and Washington.
Impact of the Vietnam War in Golden
The Vietnam War started escalating in 1965 and soon after the first young men from Golden enlisted. By 1968 the community really felt the effect with the deaths of Golden High School graduates. Altogether, nine young men died in the line of duty. The land for Norman D. Memorial Park was donated by the Peery family in memory of their son.
How you can help
Do you have information to share? Do you have a good story, a dusty photograph, a rare artifact, or the name of someone the museum should contact? Please write to MDodge@GoldenHistory.org or call 303-277-8714.