On display through June 4, 2022, "Homelands" features artwork by Arapaho and Cheyenne father and daughter artists George Curtis Levi and Halcyon Grace Levi.
The exhibit will open at noon on Sat., Feb. 12, 2022. The museum will open late that day to accommodate the installation.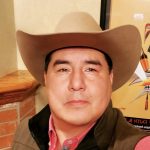 Levi is a member of the Southern Cheyenne Tribe and is also part Arapaho and Sioux. Of his art, Levi explains, "My work is about my people, it's about who I am, where I come from. It's about a history that still lives on. The types of work that I do are Cheyenne style ledger drawings on historical paper, watercolors, acrylic paintings, parfleche/rawhide work, and Cheyenne beadwork." Levi's work is currently in university collections, galleries, and museums across the U.S. and the world.
Levi continues, "This art exhibit is about the History of The Cheyenne and Arapaho People who call present-day Colorado their Homelands. The Cheyenne and Arapaho People lived in and loved this area and Colorado until they were forcibly removed in the 1860s and this show is a part of Renewal, the Return of Cheyenne & Arapaho People to part of their Homelands to tell their story as Cheyenne and Arapaho People."
Images: all rights reserved and may not be used or sold without express permission of the artist.