What does a museum smell like after all?
Years ago, a colleague shared this memorable quote from The Simpsons cartoon family: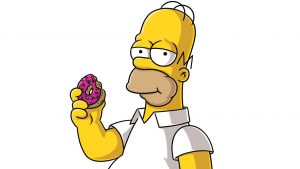 Bart says: I smell a museum
Homer replies: Yeah, good things don't end with 'eum' they end with 'mania' or 'teria.'
While I love Homer's sentiment, I'm not sure I agree. Especially since the center is becoming a museum. The museum made its sixth name change this month, and will forever be known as Golden History Museum & Park, or until the next change. Nothing is permanent, after all.
The Evolution of a museum name:
2017 Golden History Museum 
2009 Golden History Center
1997 Golden Pioneer Museum
1961 Golden D. A. R. Pioneer Museum 
1954 Jefferson County Museum
1938 Jefferson County Pioneer Museum 
The museum turns 80 in 2018:
Throughout the upcoming year you will hear more about our long history. It all started on August 15, 1938, when the Jefferson County Pioneer Museum was established by the Jefferson County Commissioners with aid from the Federal Works Progress Administration. The museum hosted a grand opening on January 14-15, 1939, with over 500 visitors at North School on Washington Avenue, the museum's first home. The celebration included some unique artifacts, one of which was chronicled in the Colorado Transcript, January 12, 1939:
So much interest has been shown in the gigantic python skin received by Prof. Clark B. Carpenter as a Christmas present from two School of Mines graduates that he has kindly consented to exhibit it at the Jefferson county museum during the formal opening Saturday and Sunday afternoons from 2 to 5 o'clock, January 14 and 15. This is undoubtedly the largest snake skin that has been seen in this locality since prehistoric reptiles used to roam over the hills of Jefferson county between Golden and Morrison during early geological eras.
It is a special attraction well worth seeing. This python skin is 24 feet long and 20 inches wide, weighs about 12 pounds, is beautifully tanned and is colored gray and brown with distinct geometrical markings. It will be on exhibition for these two afternoons only. The two Mines men who sent Carpenter this valuable specimen are now in the Federated Malay States from which they sent the skin. When they left Golden for the far east they asked Carpenter what he would like to have them send him. He laughingly said, "Oh! just send me a snake skin"—and they did.
Now that's something I'd like to see. It turns out that a Carpenter family member still owns the skin and lives in Golden. Maybe we can bring it back when we reopen this summer. What do you think? 
 –Mark Dodge, Curator