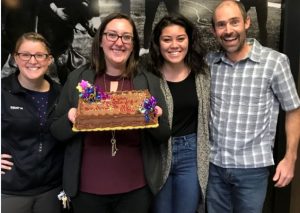 Saying goodbye to my position at Golden History Museum & Park has been a very bittersweet experience. After over five years at the museum, it is surreal to make plans to move onto a new position. I have so enjoyed my time here working with the most amazing people and community.
Some of my favorite memories include teaching the Building Colorado program to excited and engaged fourth graders – and the devastation they felt when silver crashed and they lost everything (you're not alone kids, a lot of Coloradans felt the same way). I have loved working with my remarkably supportive, enthusiastic, and kind co-workers and getting to know the most dedicated and caring group of volunteers in the world. It is fun to laugh at the crazy skills I have gained while working here, like chicken wrangling, woodstove cooking, blacksmithing, typewriter repair, and many more.
Golden has become one of my favorite places, particularly because of the wonderful sense of community here. I am excited for the next chapter in my life working for the Colorado Speaker of the House, and don't worry, while I'm there I will be sure to let everyone know that Golden was the capital before Denver.
Luckily, I won't be far away and will plan to visit frequently, using my membership to keep up to date on museum renovations and for access to fantastic free programs.
Thank you for the incredible memories, great experiences and the close friendships.
–Katie March